LAU alumna discusses best marketing practices and lessons learned
For fashion designer Emma Boutros, it is persistence, passion, and hard work that set successful businesses apart.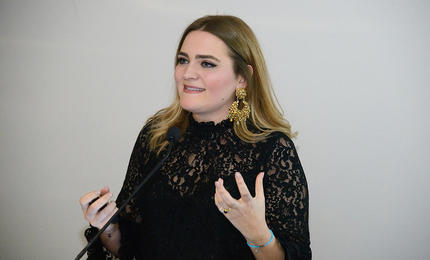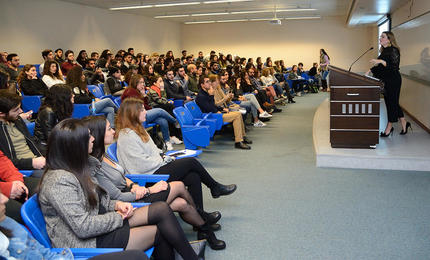 LAU alumna Emma Boutros founded Poise Design, the first luxury couture bridal footwear brand in the Middle East, in 2010, just two years after she graduated.
This semester, she returned to her alma mater to share her success, as well as her trials and tribulations, with budding fashion marketers.
"This was a great opportunity to see how a luxury brand can continuously captivate the market," said fashion marketing student Ali Shall.
Boutros creates expressive and daring footwear design with the kafiya pattern on the heel, which has now become her trademark. At first her concept and design received some backlash, but her business strategy combined with her skills as a graphic designer—as well as her determination to bring to the market something completely new—allowed her to brand her footwear and become known for quality merchandise.
During the talk, she explained how her business grew and what her future plans were as both a designer and a business owner.
"When I first started, there was no digital market, no social media, no global outreach and there was a lot of resistance to what I was creating as a designer of statement pieces," said Boutros, adding that the key to uniqueness is having a story behind your concept. "You will have no competition as long as your style is unique," she reassured the attendees. For her, statement footwear was the ideal way of expressing herself. "As a plus size teenager, I considered shoes as the extension of my body through which I could express myself no matter what I had had for lunch or dinner," she explained.
To boost her market, the shoe designer collaborated with regional and international couturiers, among whom Rami El Kadi and Alaa Najd, both known for their bridal wear. She explained that collaborations often push you to better understand what your creation is about, and thus develop a stronger sense of your brand.
Boutros designed a can in collaboration with Coca Cola, which drew attention to her make by creating brand awareness―"a recent and progressive marketing strategy to attract customers," she explained to the students. She also shared with them collection launches, online content, events, pop-ups and even artistic installations as ways of adopting a creative marketing strategy to get more exposure.
"Boutros' story, that of an LAU alumna, was so inspiring to students," stressed Mona Mrad, assistant professor of marketing and the event's organizer. "She showed the students how important it is to form a concept that is distinct from competitors," she explained.
When asked what it felt like to come back to her alma matter and give a lecture to students interested in creating their own line, Boutros replied: "I like sharing my experiences with people, especially eager students. It would have saved me a lot of time in my day to have a lecturer come in and share the technical and tricky side of the business when I was in your shoes."
For fashion marketing student and blogger Joelle Abou Nasr, the talk was a real boost: "Boutros showed us that to stay and grow in the fashion industry you really have to keep your goal in mind and work hard to achieve it … When we left the room, we literally felt that we could do anything we put our mind to."