LAU alumna empowers Lebanon's art scene
Najat Bassma believes that multimedia contemporary art, with all its fascinating aspects, needs to be exposed in Lebanon, both on a local and global scale.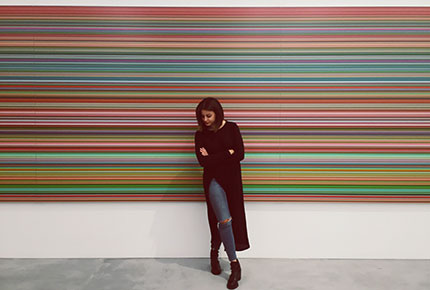 Art is not just a hobby for LAU alumna Najat Bassma; it is her life. In a world she calls "crazy," art is her coping mechanism. "The brush strokes of infinite colors are the stories I want to tell in words I can't even begin to form," she enthuses.
After earning a bachelor's degree in fine arts at LAU in 2014, Bassma headed for London where she obtained her master's degree in the same field from Chelsea College of Art. Like many other Lebanese young professionals, she did not expect to find herself back in Beirut.
"LAU contacted me when I was still living in London and informed me about the opportunity to work at the Aïshti Foundation."
As art coordinator for the foundation, which opened its doors to the public just last October, Bassma liaises and negotiates with artists from around the world in an effort to bring their contemporary art pieces to Lebanon. That she is up to the job is evident in the inaugural exhibition, 'New Skin,' which features 160 artworks by "about 35 different artists from Europe, America, and Lebanon."
Bassma often looks back at her time as a student at LAU, which she recalls fondly. "My favorite classes were Painting 4 and Senior Studies with Mr. Geitani and Mr. Chamoun," says Bassma, who considers both instructors as "mentors" who played a crucial role in helping her find her "voice" as an artist. This was made possible not only by the vast information she gained from her studies, she adds, but also by the fact that instructors cared about their students' development.
Contemporary art, Bassma stresses, is rich with diverse and fascinating aspects that need to be exposed in Lebanon. "Galleries should welcome artists from all over the world" to convey the broad scope of this flourishing medium. Equally, she says, collaboration between Lebanese and foreign artists is paramount as it "opens many doors for growth both in the local art scene and abroad." Contrary to what most people believe, art is not restricted to the visual but incorporates non-visual elements as well, a misconception that she hopes to remedy over time.
"Art can range from paintings and sculptures, to photographs, installations, audio, video, and even performances. It is my hope to expand and enrich the contemporary art scene in Lebanon."