LAU alumna opens doors to Palestinian students from refugee camps
Rima Hourani donated $200,000 to fully sponsor four Palestinian students at LAU's schools of Nursing and Pharmacy.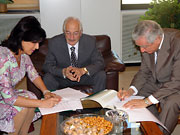 Accompanied by her husband Amal (center), LAU alumna Rima Hourani signed a gift agreement with LAU President Dr. Joseph G. Jabbra, and submitted a $200,000 check on October 25 to fully sponsor four LAU students from the Palestinian refugee camps.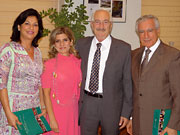 The Houranis with Dr. Jabbra and Nicole Maamari Barghoud (2nd from left), associate director of Development at LAU.
LAU alumna Rima Hourani signed a gift agreement with LAU President Dr. Joseph G. Jabbra, and submitted a $200,000 check to the university on October 25, to fully sponsor four Palestinian students from the refugee camps who started their studies at LAU this semester.
Mrs. Hourani and her husband Amal have contributed generously to various endeavors at LAU since their first donation in 1993. Recently, after realizing that some prospective students interested in studying at LAU could not afford the costs, the couple decided to offer financial assistance to three students from the School of Nursing and one from the School of Pharmacy.
Mrs. Hourani, who is herself of Palestinian descent, has found a way to pay homage to her roots, while giving back to her alma mater, by offering other Palestinian students the chance of education.
"It is always important to give to others, so those who are less fortunate can have the chance of a better life," she says. "We chose to give financial aid to nursing and pharmacy students because the students graduating with degrees in those two fields will gladly be able to work and be of help in the ever-demanding health care sector. These are professions that heal people," she adds.
During the October 25 event held at LAU Beirut, President Jabbra said: "To provide these opportunities is part of our mission and we feel strongly about giving anyone and everyone the chance to receive a higher education. It is our essence at LAU to welcome people who can afford this education, as well as equally welcoming those who cannot."
Over the years, Amal and Rima Hourani have made several important donations to LAU. Following the establishment of the Byblos campus, the couple donated a sizeable amount toward naming the Rima Hourani Exhibition Room there in 1993. Then, upon hearing word of plans to build a new School of Business on the Beirut campus, they generously gave a large sum that went toward naming the Amal Issa Hourani Lounge in 2008.
While such donations speak volumes about the Houranis' spirit of philanthropy and commitment to furthering education at LAU, their contributions will be best measured by the opportunities and new horizons their generosity opens up for future generations of students in Lebanon.
Besides his contributions to the education sector in Lebanon, Amal Hourani has also been contributing to the rapid growth and economic development of the Emirates over the past four decades, through ALGECO, the prosperous UAE-based contracting company he co-founded in 1963. Originally comprised of 20 employees, ALGECO now employs over 5,500 staff members who work at the forefront of design and construction in the UAE and throughout the Middle East.
Alongside his professional commitments, Mr. Hourani sits on the advisory boards of LAU's schools of Engineering and Business.