Alumna Wins Entrepreneurship Award
Nada Ghazal has been recognized for her successful jewelry business at the Brilliant Lebanese Awards 2017.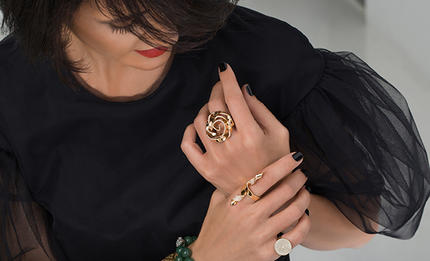 Nada Ghazal knows a thing or two about style. The LAU alumna (BA '92) and owner of the Nada GTM jewelry boutique has won Woman Entrepreneur of the Year at the Brilliant Lebanese Awards 2017.
The award — intended for women-led businesses with distinctive services or products that demonstrate a sustainable model and social responsibility — was announced on December 7, but Ghazal's passion for design has been years in the making.
"I designed my first rings at six years old," Ghazal said during a visit with representatives from the LAU Alumni Relations Office. She reminisced about the eagerness she felt every year around Eid al-Adha, when her family members would use the seat of a woven chair to imprint a pattern on their holiday cookies. "While all were waiting to make cookies, I made bracelets and rings out of dough using the same pattern." That design inspired one of her most unique collections called Khaizaran.
In her teens, Ghazal began experimenting more, making accessories and clothing out of recycled material, designing shoes and painting her siblings' rooms. "I wouldn't settle for things bought in the market; I used to craft them myself, whether they were pillows, stools or other items. I would make everything from scratch."
After graduating from high school, it was only natural for Ghazal to pursue her passion academically, and she enrolled at LAU to study design. Shortly before starting, however, tragedy struck. Her father died in a car accident, leaving her young mother with six children to care for.
Determined to support herself, Ghazal did what she knew best: create. "I used to knock on doors asking restaurants and shops if they needed a designer to work on their logo, their menu or sign. I was very confident," she said, adding, "I was basically implementing what I was learning during classes."
Despite the hardships she endured while pursuing her degree, she greatly enjoyed her time at the university. "LAU really played a major role then, as I really felt comforted, protected, loved and supported."
Ghazal's hard work paid off. Upon graduating with a degree in Advertising Design, she was quickly hired as a full-time designer at an advertising agency in Lebanon, and then in Dubai. "I was always looking for more growth, more experience. But eventually, I knew that there was more out there for me."
So Ghazal took a leap of faith, leaving a comfortable professional situation and returning to Lebanon to start her own business. "I always told myself that I would have my own brand at 30 years old," she said.
Ghazal opened her first shop in the not-yet-trendy Gemmayzeh, a few months before the assassination of former Lebanese Prime Minister Rafic Hariri and the political instability that followed. "There were ups and downs. It has not always been an easy ride, but I believed in it and persisted," she said. Today, the designer has a shop and office in downtown Beirut that employs 15 people, and she sells internationally.
Ghazal has found a way to shine in a crowded market. Unlike the complex and often heavy jewelry that has always been popular in Lebanon, her pieces combine wit and wearability, and are often conversation starters on their own.
About her Brilliant Lebanese Award, she said, "Being recognized in Lebanon is very special, and it's an acknowledgment of the different battles I have won so far. And there's still a lot to come, I hope. I love this country and don't see myself elsewhere."
Her advice to current LAU design students trying to make it big in a competitive market? "One has to work hard to be successful. Sit with yourself and find where your passion lies… It might take extra effort, but you will outshine the others if you do things well and do them from the heart. It's hard work but it's worth it."