LAU alumni: ambassadors worldwide
LAU's alumni feted by their alma mater, their "second family," in the annual Alumni Homecoming reunion.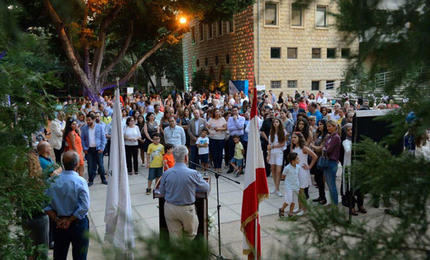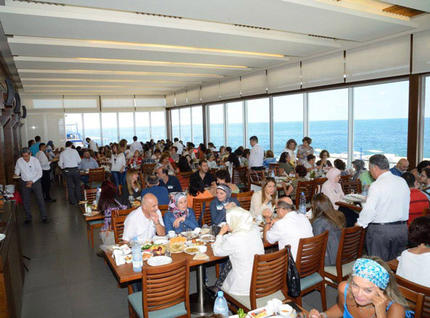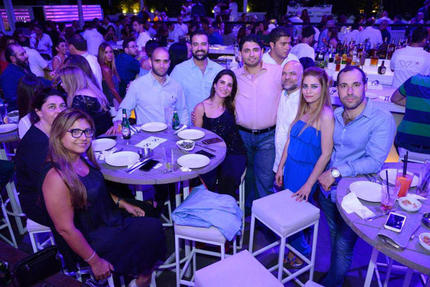 "I was a student at LAU during the civil war. I lived in Bourj al Barajneh, and as it was too dangerous for me to go back home between lectures, I would spend my entire day at the university," said Zeinab Makkeh, who graduated in business studies in 1990. "LAU was my light and my second home; it is not just stones, it represents a very special place."
Makkeh was attending this year's annual Alumni Homecoming reunion in Beirut where alumni across the generations gathered in high numbers, and waited patiently in line to receive their pins from LAU President Joseph G. Jabbra.
"It is important to have a place of reference. LAU represents your second family," Jabbra told the crowd.
The Homecoming week kicked off with a dinner on July 12 at White rooftop in Beirut, where the Alumni Association awarded Joseph Abi Ghosn ('01) the Alumni Recognition Award and Mona Hatoum ('72) the Alumni Achievement Award. A successful businessman, Abi Ghosn took charge of ENJM upon his graduation from LAU with a B.S. in Business Management, taking it to another level that got the company―now ENJM Energy―the Golden PAN Arab Web Award for the oil and gas section in 2008.
A Lebanese-born Palestinian video and installation artist who lives in London, Hatoum studied Advertising Design at LAU (then Beirut University College) class of 1972 before being forced into exile. Since 1983, she has been displaying both her installations and her video performance art pieces in exhibitions around the world. She has been featured in individual exhibitions as recently as 2011 at White Cube art gallery in London. She has also won several awards, has received many honorary titles and is a resident and member of various art centers and institutions.
"The idea behind these awards is to recognize the achievements and contributions of LAU alumni and for alumni to take pride in their fellow alumni," said Abdallah Al Khal, executive director of Alumni Relations. "It is also a way to tell the world who are the graduates of LAU."
In turn, alumni from different peer groups expressed their gratitude to their alma mater. Sylvia Mattar, who graduated in 1973 with a degree in Elementary Education when LAU was still a women only institution, said "LAU prepared me for life and for the future … It kept me following the news and opened my mind."
This was echoed by the younger generation. Oham Oumoudian, who graduated in Computer Science in 2011 and is now a successful senior programme developer, declared that LAU had provided him with the opportunity to explore and hone his skills. "Thanks to the faculty and the support of the placement office at LAU, I was ready for the job market … They incentivised us to strive for perfection."
Al Khal was keen to underscore the "History of LAU and the loyalty of its graduates. The progress of our programs has been dramatic, particularly in the past 14 years, and we owe it to a great extent to the support of the alumni. Thanks to them, we now have 40 alumni chapters around the world."
Throughout the Homecoming weekend, Jabbra maintained that the alumni were the real ambassadors of LAU worldwide, thanking them for their loyalty and the affection they have shown for their alma mater.
Check the LAU Alumni official Facebook page for more pictures.