LAU alumni bring their art to the heart of Beirut
Following the Maraya 2011 Hamra Street Festival, three LAU alumni painted newly placed benches.
In pictures—
LAU alumni Nisreen Mohtar, Danny Khoury and Dalia Baassiri each designed and painted two of six new benches on Beirut's Hamra Street on October 4 and 5. They were selected as part of a painting competition in the Maraya 2011 Hamra Street Festival, which took place from August 30 to September 1.
Ms. Najwa Baroudi, the organizer of the festival, was delighted with the contributions of the three LAU alumni, saying the point of Maraya is to celebrate the spirit of Hamra, which she describes as "the center of intellectual activity in the city."
"Dalia, Danny and Nisreen are fine artists. Their work is diverse and broad in its meaning, and their energy and enthusiasm are exemplary," she says. "We are very happy with our choice —and LAU should be proud," Baroudi says.
Baroudi hopes more benches can be installed in Hamra, as well as in the rest of the Ras Beirut area.
"We're encouraging a high standard of varied cultural and artistic activities to draw in the diverse local and foreign communities that converge on Hamra," she explains.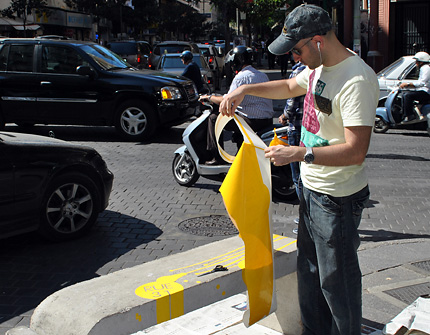 Khoury, a 2002 graphic design graduate, expressed pleasure in using his design skills to enliven the much-needed resting space on his favorite street.
"Benches were always a missing part of Hamra," says Khoury, who published his first book, At the Edge of the City  in 2010, "This project is part of an attempt to revive the street," he adds.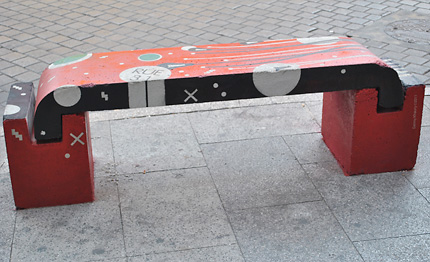 Khoury was inspired by — and set out to capture — the distinctive spirit of the iconic Ras Beirut street.
"One of my benches is rather abstract in its design," Khoury comments, "but I felt its elements reproduce the lively soul of Hamra."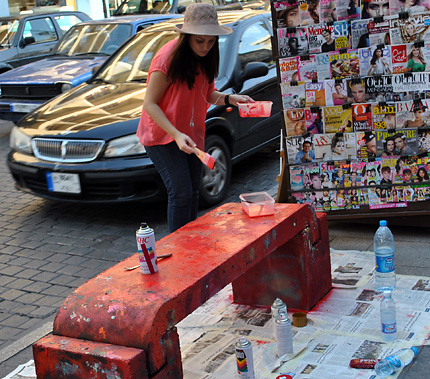 2003 graphic design graduate Baassiri is currently working as a freelance graphic designer. She took her cue from local pedestrians in her approach to the project.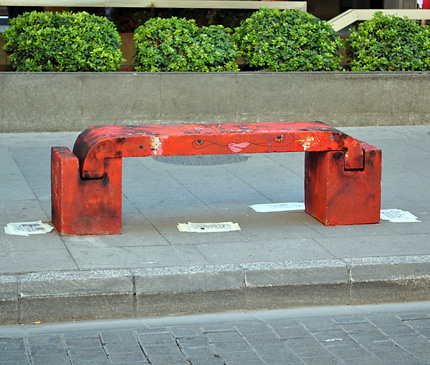 "I watch different people's faces and get inspired," she explains, adding that. "I am also interested in illustrating human cells and features."
Baassiri — who is set to continue her graduate education at Chelsea College of Art and Design in London — was also motivated by her emotional attachment to a neighborhood she's lived in for ten years.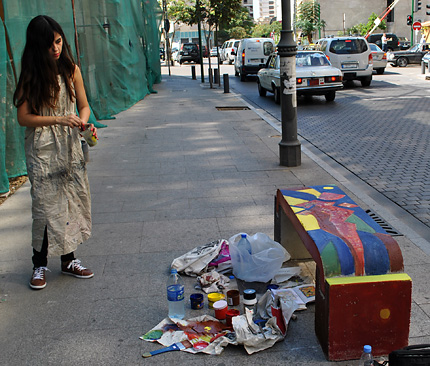 Mohtar, who graduated in 2003 with B.S. in Interior Design and a minor in Fine Arts, initially had misgivings about painting on a busy street like Hamra.
"At first I was terrified," she admits. "It's definitely different from painting in a studio alone. I doubted whether I would be able to reflect my ideas smoothly while passersby watched me."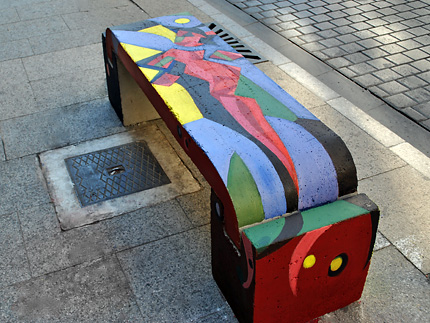 Ultimately Mohtar's extensive experience with exhibitions — at LAU, AUB, and the International School of Choueifat — served to calm her nerves, and her work was very positively received.
"I had comments from famous artists," she says, "as well as a number of requests for future painting work. I think this kind of work is good marketing for us."