Gulf galas raise significant sums for scholarships
Large amounts raised by Abu Dhabi and Dubai and Northern Emirates annual alumni chapter galas will bankroll LAU student scholarships.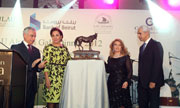 Dubai and Norther Emirates chapter honoring former Minister Leila Solh Hamade.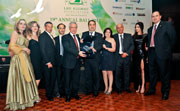 Abu Dhabi committee honoring LAU President Dr. Joseph G. Jabbra.
Click on any photo above for larger version.
LAU alumni chapters in Abu Dhabi and Dubai and Northern Emirates both raised large sums for student scholarships during their annual galas on March 15 and 16, respectively. Both galas enjoyed record participation, with Abu Dhabi gala drawing around 650 people, and Dubai and Northern Emirates around 550.
"Networking, getting alumni together, promoting LAU, these are all important outcomes of these annual dinners," Abdallah Al Khal, director of Alumni Relations, said. "But most importantly, they raise needed funds for student scholarships."
In recent years both chapters have introduced new themes and entertainment to attract larger crowds. This year, the Abu Dhabi chapter flew in violinist Hanin Ghareeb and singer Wael Jassar from Lebanon. The dinner, themed "From LAU to the World" and held at the Rotana Beach Hotel, honored four prominent supporters of the university: Amal Hourani, Kameel Sarieddine, Salim Zyr and Salim Sfeir.
"Year after year more people are learning about LAU and what we stand for, and they believe in what we are doing," said chapter president Naim Stephan. "We used to have a couple hundred attendees at our dinners, and we now have 650 because we have built such a strong reputation in the United Arab Emirates."
Promotion of LAU through local chapters' dinners and activities has been crucial to spreading word of the mission and goals of the university in recent years, but Stephan is quick to point out that these efforts were largely made possible through the vision and leadership of Dr. Joseph G. Jabbra, president of LAU since 2004.
Jabbra, who attended both the Abu Dhabi and Dubai galas, was caught by surprise when Stephan — along with other chapter committee members — summoned him to the stage to receive an award for his service to the university.
"We felt it our duty to honor him for the achievements he brought to LAU over the past few years," Stephan said, pointing out that Jabbra's tenure has witnessed the establishment of the medical and nursing schools, the purchase of Rizk Hospital, NEASC accreditation and the accreditation of many degree programs.
The Dubai and Northern Emirates dinner took place at Al Bustan Rotana Hotel, and centered on a mother's day theme. "From our mothers we learned how to love, how to care, and most importantly, how to give," said chapter president Saad El Zein, toasting the hundreds who attended. "These values — along with passion and commitment — have grown in us over the years into a bottomless devotion to assisting others."
The chapter specifically honored Leila Solh Hamade, former Lebanese Minister of Industry, describing her as "personifying the values of the dearest person to our heart." Solh Hamade also serves as vice president of the Alwaleed bin Talal Humanitarian Foundation which has donated generously to LAU over the years.
El Zein explained that the gala's ultimate objective is to give back to LAU by helping students in need of financial assistance. "It is our mission to raise scholarship funds to help them fulfill their ambitions, goals and dreams," he said.
For the evening's entertainment, organizers hired Lebanese singers Maya Diab and Joseph Attieh.
For the first time, local high-school principals from the UAE were invited to attend the galas, both as a token of appreciation for their support of LAU over the years, and to offer them a better sense of what the university stands for.
"This reinforces and personalizes the relationship we have with these high schools," said Abdo Ghie, assistant vice president for Enrollment Management. It was the first time Ghie, along with Nada Hajj and Michel Najjar, directors of admissions in Beirut and Byblos respectively, attended such galas as part of their outreach effort.
According to Ghie, parental interest in LAU far exceeded organizers' expectations. "I discovered very quickly that attendees were committed to LAU — they love it and speak extremely highly of it," he said. "They are eager to send their kids to us — in many cases, it wasn't even something to discuss. Their questions were simply of logistical nature."
He added that Hajj and Najjar deserve credit for "cultivating personal and friendly" relationships with high schools in the UAE.
Both events were sponsored by the Bank of Beirut.