LAU alumni shine at film festival in Qatar
LAU graduates and former students showcase their talents as filmmakers, producers and event coordinators at the 2nd annual Doha Tribeca Film Festival.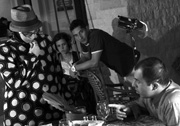 LAU alumni Niam Etany (left) and Mahmoud Akhal (back right), assistant director of photography, on the set of Etany's short film Super. Full., which screened during the Doha Tribeca Film Festival.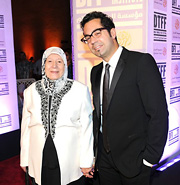 Former LAU student Mahmoud Kaabour, winner of the DTFF's Audience Award for Best Documentary for Grandma, A Thousand Times (Teta, Alf Marra) with Teta at the festival. Photo courtesy of Andrew Walker/Getty Images. All rights reserved as per DFI rights.
A passion for film brought a group of LAU alumni and a former student to the second annual Doha Tribeca Film Festival in Qatar, where they participated as filmmakers, producers and event coordinators, from October 26-November 1.
DTFF featured a selection of the most acclaimed Arab and international films, and offered a range of activities from panel discussions, informal VIP events, Q&As with the audience, and a Family Day with live entertainment.
LAU alumni were a big presence at the festival — some traveled from Dubai and Beirut, and others are based in Qatar.
Niam Etany, who received her B.A. (2000) and M.A. (2005) from LAU and an M.F.A. in Screenwriting from Hollins University in the United States, successfully screened her short film Super. Full., which she wrote and directed, during a side panel outside the festival's competition.
In this self-described "feel-good" film about a deaf and mute couple, a disabled Indian worker promises to take his newlywed wife for a birthday dinner in the fancy hotel across the street from their one-room house in Doha. However, when his bicycle gets stolen, he has to choose between buying a bike to save his job and fulfilling his promise to earn his wife's love.
When asked what sets Lebanese filmmakers apart, Etany, who will be releasing her debut feature film Shadow of a Man in 2012, says: "I think Lebanon is a country rich in wounds and beauty, which makes it a fertile soil for creativity and various art forms."
"What we lack in Lebanon is financial support, which makes us go abroad looking for funds. But when it comes to professional staff and crew, I have total confidence and trust in Lebanese hands," Etany adds.
An independent screenwriter and filmmaker, Etany recently relocated to Lebanon from Qatar, where she had been active in LAU's Qatar Alumni Chapter since 2006. She also spent the past five years at Al Jazeera's Doha Satellite Network in TV production and documentary filmmaking.
Etany says she considers herself a beginner when it comes to directing narrative films, but credits the Doha Film Institute — the festival's organizer — for its support of young and aspiring filmmakers in Qatar and the region. Super. Full. was shot and edited with the help of DFI crew members.
Another alumnus, Mahmoud Akhal, who graduated from LAU with a B.S. in Business in 2002 and an M.B.A. in 2006, worked as an assistant director of photography on Super. Full.
Mahmoud Kaabour, who studied at LAU (B.A. in Communication Arts) between 1995 and 1998 before moving to Canada where he graduated from Concordia University in 2000, won the DTFF's Audience Award for Best Documentary for Grandma, A Thousand Times (Teta, Alf Marra), a personal documentary designed to commemorate the many worlds of a feisty grandmother from Beirut struggling to cope with the changes around her.
The film, which made its world debut at DTFF, also won a Special Jury Mention in DTFF's Arab Film Competition.
"The audience (including Teta herself) and the filmmakers loved it and gave him a long and well-deserved standing ovation," says Etany.
LAU alumna Reem Saleh, who graduated in 2003 with a B.A. in Communication Arts, works as a content producer for DFI and provided daily coverage for the DFI website during the festival. "I was mainly interviewing stars on the red carpet and did the Adel Imam (a renowned Egyptian actor) tribute video at the closing ceremony," Saleh says.
Both Saleh and alumna Wafaa Celine Halawi were selected to pitch their film ideas to the public and to industry professionals during the pitching sessions, according to Etany.
Alumnus Chadi Zeneddine also played a major role during DTFF, as a resident filmmaker with DFI and one of the festival's programmers for Arabic films.
DTFF is held in association with the Tribeca Film Institute, a non-profit organization founded by Robert De Niro, Jane Rosenthal and Craig Hatkoff that puts on the annual Tribeca Film Festival in New York.