LAU alumnus announced as head of pan-Arab daily
A graduate of the school of business, Faisal Abbas has taken on the role of editor in chief of Jeddah-based newspaper Arab News.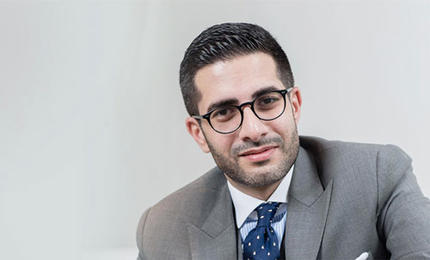 Four years after relocating to Dubai to join Al-Arabiya as editor in chief of their English language content, LAU alumnus Faisal Abbas has returned to his fatherland, Saudi Arabia, to head the regional daily newspaper Arab News.
"I have been granted a chance to go back home and be part of perhaps the most exciting time the country has gone through in decades; for a journalist like me, there could not have been a better time to be in Saudi Arabia … to witness and report on the massive transformation the country is undergoing," says Abbas of his return to Jeddah 20 years after leaving to pursue his education, first at a high school in Amman and then at the Lebanese American University in Beirut.
Despite an early passion for journalism, Abbas majored in business at LAU. "I did it to appease my parents, but I specialized in marketing and took all my electives in communication arts," explains Abbas, who worked full-time at Future TV throughout his four years as an undergraduate student. "I always say, I left Lebanon with two degrees―an academic one from LAU and a practical one from Future Television."
Abbas chose to study at LAU after hearing great things about it from his older brother―also a graduate of the university's school of business. "My mother's family lives nearby, in Raouche, so we used to pass by LAU often during my childhood visits to Beirut and they would say 'yalla, when you grow up you'll go there,' and I did."
Abbas added further to his multi-national background, education and experience by moving to London, where he continued to work in Arab media and obtained a master's degree in marketing communication. "I not only wanted to be a stronger journalist but also to prepare myself for management of a media operation," he explains. Less than a decade after graduating from LAU, he was hired as editor in chief at a global Arab broadcasting company.
"In those days, television was king and newspapers were struggling to make it clear that they were still dominant. Today, both television and print are struggling to show that they are still relevant in the era of social media and direct citizen journalism," says Abbas. Arab News, where he now works, boasts a strong online presence in addition to its print edition.
"I believe we must grab the challenge by its horns, and determine to make a success of whatever the current media landscape may be," says Abbas boldly. Among the difficulties facing Arab media today, he adds, is the absence of fundamental ethical practices. "There's a lack of standards, little respect for copyright and the right of response."
Abbas is also saddened by the current state of Lebanon, his motherland and a country with a special place in his heart. "I pray for Lebanon to return to peace, prosperity, and tolerance, and once again emerge as a regional leader in intellect, literature and science."