LAU and Adyan host experts for inter-religious dialogue conference
A two-day conference on religious freedom and the reconstruction of citizenship comes to a close today at LAU Beirut.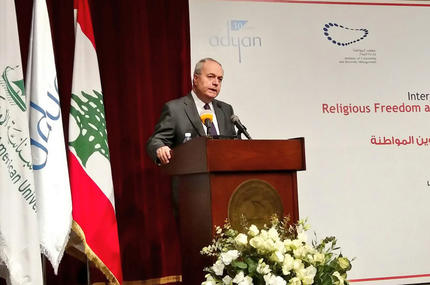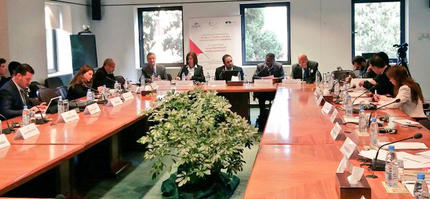 Thirty-four academics, policy makers, religious leaders and opinion makers from across the world gathered at LAU over two days to discuss religious freedom and the construction of citizenship.
The conference, which concluded this afternoon, was organized by The Institute of Citizenship and Diversity Management at Adyan Foundation in partnership with LAU.
"This partnership forms an intellectual edifice of monumental proportions," said LAU Provost George K. Najjar during the opening session. "We are gathered to discuss issues that are at the very heart of the human condition, anywhere and anytime, let alone in our part of the world here and now," he added, highlighting the caliber of the participants.
This is the third conference of inter-religious dialogue hosted by LAU and Adyan since 2010. "Having made a series of achievements since our inception ten years ago, we realized it was important to address the issue of citizenship," said Nayla Tabbara, director of the Institute of Citizenship and Diversity Management Director at the Adyan Foundation. "Our educational work in this regard has been cited and praised by leaders globally… and we welcome this opportunity to exchange experiences and insights."
Tabbara enjoys, in particular, hearing case studies from other countries and discussions around philosophical questions. These were in great supply throughout the conference.
Father Adrien Sawadogo from Mali and Burkina Faso shared experiences of a loss of diversity in African countries, while Gwen Griffith-Dickinson, visiting professor of theology at King's College London and Director of the Lokahi Foundation, spoke about the devaluation of truth in increasing narcissistic societies.
"The rise of political Islam… has been a big blow to religious diversity,' said Sawadogo, adding that the different missionary approaches practiced by both Christians and Muslims – with the former introducing French education and the latter enforcing Arabic education – also created divisions within society. Meanwhile, Griffith-Dickinson referred to U.S. president-elect Donald Trump as a prime example of the growth of narcissism in society. "In the U.S., individual identity has become most important and the truth loses value. Countering such narratives requires a capacity for empathy, and as such we must promote listening and understanding from a very young age."
Tarek Salem, deputy director of Al-Azhar Observatory, is also concerned with youth engagement. "Such conferences revive discussion and cooperation and I expect that we will develop partnerships that will aid us in our work," he said. "Islam is not rightly practiced in our countries. There are political and societal reasons for this and many generations have been raised on ideas that can't be countered or remedied quickly, so we must take a long-term approach to address them."
Emphasizing the longevity of the problem, Marwan Rowayheb, chair of the LAU's Department of Social Sciences, noted that religious freedoms have been threatened or absent for centuries. "These issues are timeless and borderless. Fundamentalism is everywhere, not only in Islam or our region."
Fellow faculty member and assistant dean of the School of Arts 
and Sciences Sami Baroudi also addressed religious freedom in his presentation, which focused on the teachings of four contemporary Islamic preachers with regard to the treatment and status of minorities in Islamic states. "In their view, these minorities form protected groups, but they are not consulted. Neither are Muslim citizens consulted. There is no referendum in sharia." This, says Baroudi, makes the teachings of the religious leaders incompatible with modern European notions of citizenship, despite their proclamation of flexibility and tolerance.
"I find the relationship between state and citizen most fascinating," said fellow participant Matthias Vogt, head of Foreign Department at Missio. "Particularly the different roles of the state and of parents," he added, noting that he believes parents have not only a right but a duty to raise their children according to their religious and cultural tradition. "It has been a most engaging conference and a space within which we have reflected on many questions openly and honestly."
The conference was organized by the Institute of Citizenship and Diversity Management at Adyan Foundation in partnership with the LAU's Department of Social Sciences with the support of the Church of Sweden and Missio.