LAU and Hariri Foundation launch academy in Sidon
The newly born Outreach and Leadership Academy is connected to over 50,000 students in the Southern city alone.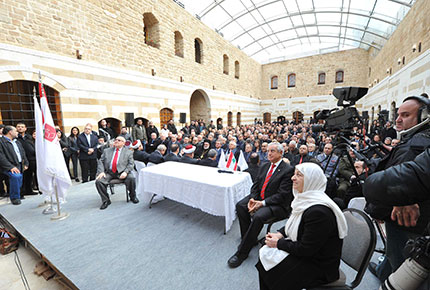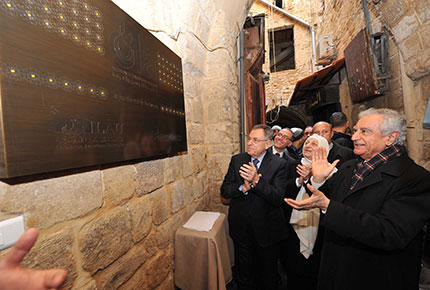 "Partnership, place, people, prospects…These are at the foundations of OLA," said LAU's Assistant Vice President for Outreach and Civic Engagement (OCE) Elie Samia, speaking today at the launch of a new LAU center in the southern city of Sidon.
The Outreach and Leadership Academy (OLA) is the result of yet another fruitful partnership between LAU and the Hariri Foundation. Since 2011, the university and the foundation have worked together on a number of initiatives centered on education and empowerment.
"Why do we partner with the Hariri Foundation?" asked Samia. "Because we have built a trust and have a chemistry with sitt Bahia ," he said, referring to head of the Hariri Foundation Bahia Hariri, who also heads the commission of education and culture at the Lebanese Parliament.
"The Aisha school was one that launched pioneers," said Hariri, a former teacher at the school that used to be based at the site of the new academy. Her brother, former Prime Minister Rafik Hariri, had himself studied there. "We can no longer educate our youth only to see them leave Lebanon when faced with the strangeness of our nation's reality."
Referring to young people as "a most invaluable treasure," LAU President Joseph G. Jabbra agreed: "Lebanon's youth must be cherished so they can illuminate Lebanon and the region, through civic engagement, inclusiveness, and respect for human dignity."
Since 2011, LAU and the Hariri Foundation have trained over 2,000 middle and high-school students through joint initiatives that include the Leadership and Constitutional Education Academy, the Moderation and Justice Academy for Leaders and the LAU Model Arab League.
OLA, located among the old houses and souks of Sidon, will be the South Lebanon headquarters for all of these initiatives born of a strong trust between two institutions devoted to education, empowerment and engagement. Through the Sidon school network, which comprises 112 public, subsidized and private schools, OLA is connected to over 50,000 students and 5,500 teachers in the southern city alone.
"Imagine what 50,000 students can do if they are educated with burning passion and galvanized by a unifying spirit bent on changing Lebanon," said Jabbra to an audience of 300 in the central courtyard of the recently renovated old palace which will henceforth serve as OLA's home base.
"When we first saw this place we were dumbfounded," said Samia. "The surrounding area, with its churches and mosques and museums, is a true example of moderation and of our mission." Surrounding the courtyard are a number of small rooms, ten of which are set up as fully equipped smart classrooms. Tomorrow, Saturday February 21, OLA will already be hosting hundreds of teachers from the Sidon school network for talks and workshops.
"This center will be a beacon of civic engagement and an open space for all parents and students to learn more about LAU and our programs," said Samia. "We have strong ties to this community through our scholarships. Learning at LAU is not a dream. We have a weakness for those who seek education."