LAU and Université de Montréal faculty evaluate foreign democracy assistance
Their project examines the impact of foreign democracy promotion programs on citizen empowerment in post-conflict societies in the region.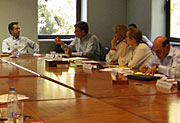 The project's inception workshop held at LAU gathered political scientists and experts who exchanged ideas on the research methodology. The project's co-directors, Dr. Bassel Salloukh from LAU and Dr. Marie-Joelle Zahar from the Université de Montréal, are in the center.
Two political science professors from LAU and Université de Montréal have embarked on a three-year project to provide a better understanding of the impacts of foreign democracy assistance on citizen empowerment in four post-conflict Middle Eastern and North African states.

Co-directed by LAU Assistant Professor Bassel Salloukh and Dr. Marie-Joelle Zahar from the Université de Montréal, the project examines the role of foreign democracy promotion programs and the reasons for their failure or success in Lebanon, Iraq, the West Bank/Gaza, and Sudan.

Entitled "Empowering Citizens: Elections, Civil Society and Peace Building," the project "aims at testing some of the explicit and implicit hypotheses guiding foreign democracy assistance, and re-evaluating them when necessary to enrich policy debates and recommendations," says Salloukh.

He explains that democracy promotion programs "are foreign-funded programs that aim at building sustainable, accountable and participatory institutions in post-war societies."

They aspire to "give voice to citizens in the shaping of political representation and public policy" through reforms in electoral laws, security sector institutions, the judiciary or civil society organizations.

The initiative is funded by the International Development Research Centre, which reports to the Canadian Parliament through the minister of Foreign Affairs.

It will involve LAU and Université de Montréal graduate students and NGOs from the four countries under study that will assist in collecting data, developing policy recommendations, and completing other aspects of the research.

Such projects "expose our own students to the latest policy and academic debates in North American and European think tanks and universities," says Salloukh.

On a larger scale, they also "help create global and interdependent communities of knowledge that can share research interests and questions," he adds.

The project was launched during a workshop held May 21-22 on LAU's Beirut campus. Political scientists and practitioners from Lebanon and other countries gathered to exchange ideas on the research methodology.

The workshop addressed problems in identifying and evaluating democracy promotion programs, measuring success and empowerment, and identifying key actors in peace building. It also tackled the importance of collecting unbiased data as well as other methodological challenges of quantitative and qualitative research.

Despite these difficulties, Salloukh looks forward to producing a constructive study. "We hope that the results and recommendations of our work will be used by both the donor community and local actors to devise policies and strategies that will expand the parameters of democratic participation in the Arab world," he says.