LAU arms its students with research know-how
To boost students' research skills, LAU tests an innovative Evidence-Based Research tool across three schools: Nursing, Pharmacy and Nutrition.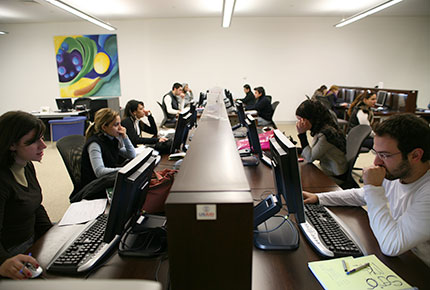 "We want to facilitate critical thinking when conducting online research among college students. So, making sure our students have a high degree of research competencies is a priority," says Dr. Rita Doumit, assistant professor at LAU's Alice Ramez Chagoury School of Nursing. This skill is needed more than ever in a world where rapid advances in global technology have radically changed the way students access information. While the Internet has opened up a myriad of new opportunities, there is also a great deal of non-scientific and non-evidence based information presented as fact. Consequently, it is necessary for budding researchers to learn how to gauge what is valid and what is not.
To this end, Doumit has teamed up with Dr. JoAnn Long from the Lubbock Christian University (LCU) in Texas in a joint research project. The study is aimed at testing the LCU Evidence-Based Research (EBR) tool, which is designed to develop student research skills.
The tool was developed at LCU to address the fact that university students often overestimate their ability to accurately acquire online information. "What we see is that often students lack the skills necessary to evaluate the trustworthiness of scientific literature, and we want to know if the EBR tool can remedy this," explains Doumit.
The tool guides students through a simple, easy to follow, 10-step process to gain competency in locating and critically appraising the scientific literature.
Currently, the study is in the data collection phase and being test-run at LAU across several disciplines: nursing, nutrition and pharmacy, as part of a multi-site randomized control trial. "It is important to me to ensure that this research collaboration is not only international but also interdisciplinary, so as to address the growing need for interdisciplinary curriculum content," Doumit explains.
Both nutrition professor Dr. Nadine Zeeni, and pharmacy professor Dr. Aline Milan tested the EBR tool with their respective students in last fall. While Dr. Ola Sukkarieh-Haraty is currently testing the EBR tool on nursing students. Soon to be completed, the project's early findings suggest that the technology-based EBR tool effectively enhanced the students' skills and produced objective data suitable for programmatic evaluation of student research skills and institutional assessment.
"This is one way we are striving to enrich the role of conducting research at LAU—it is not just about being a practitioner but also about moving the field forward," Doumit concludes.