LAU athletics director appointed head coach of national basketball team
Director of Athletics at LAU Byblos Joe Moujaes will lead Lebanon's senior men's basketball team in the upcoming West Asia tournament.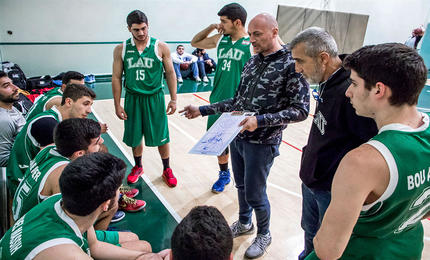 "It's the most prestigious position a coach can hope to attain," says Joe Moujaes proudly of his recent appointment as head coach of Lebanon's senior men's basketball team. Moujaes, director of athletics at LAU's Byblos campus, is the youngest coach to ever hold the national position.
His appointment is the result of, and a reward for, a string of successes with other teams. Last year, he led the junior men's national team to fourth place in the Asia championship and Homenetmen, the local club he has coached for three years, has been heading the national boards for a long time.
Where next for the coach who has reached the top of the national totem pole? "I want to go international, either by taking the national team to international tournaments or by coaching a big club abroad," responds Moujaes, without hesitation.
Moujaes was a student of engineering at LAU until 2001, during which time he was an avid athlete. He took a position at the university's athletics department upon graduating and has gone from strength to strength ever since. "When I joined in 2002 I realized that I must not only develop as an athlete but as a manager as well. You really have to be well rounded in everything to reach this level and being at LAU gave me the opportunity to do that. I wouldn't have grown and developed the way I did to become a great coach otherwise."
Moujaes' success with LAU's varsity basketball team was also instrumental in propelling him to the national level. He and his fellow athletes recently celebrated the win of the LAU Captains men's team at the AUB #150 International Sports Tournament.
Always looking to support talented athletes, LAU's highly competitive athletics program runs – among many other initiatives – a high-school tournament that provides the university with an opportunity to spot talented youths, many of whom go on to receive athletics scholarships. "I'm delighted hard-working young athletes enjoy this opportunity to gain a strong education at LAU."