LAU Beirut, a stage for regional performing arts
About 150 students and instructors from Lebanon and the region gather to perform and compare notes on their craft and experiences.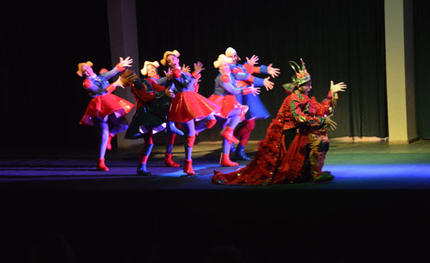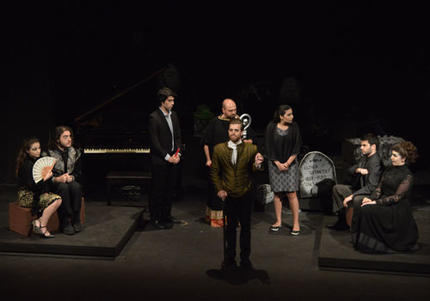 On May 25, LAU's thespian talents offered the public a musical re-enactment of I Want This Man an Egyptian comedy on gender discrimination in Arab society. "The play was written in the 50s by Tawfiq al-Hakim. It shocked the audience at the time, introducing the idea of a marriage proposal made by a woman. What is interesting is that it is still shocking in our society today," says Mona Knio, associate professor of theatre at LAU's Department of Communication Arts.
The performance kicked off the 18th International University Theatre Festival, an annual event that aims to showcase the best productions of the academic year not only at LAU but also at other universities in Lebanon and across the region.
Organized by LAU's Communication Arts Department, the five-day festival, running from May 25 to May 29 this year, is hosting theatre productions from the University of Hassan II, Morocco; Yeditepe University, Turkey; Djillali Liabes University – Sidi Bel Abbes, Algeria; the Academy of Arts – High Institute for Performing Arts, Egypt; and from Lebanon, the Beirut Arab University, the Lebanese University, Antonine University, and LAU.
Aras Şenol, 23, from Yeditepe University, is thrilled to be participating in the event for the second year in a row. "The festival is one of a kind for the Arab world," he says. "What I find particularly useful are the chat rooms after the shows where we get the opportunity to critique the performances and exchange our points of view," he stresses. For his colleague and first time participant, Alp Űnsal, 22, the opportunity to visit another country and be exposed to different styles of acting has been exhilarating.
Mariam Jalout, 30, from Sidi Bel Abbes, Algeria, agrees. "This is a marvelous opportunity to make friends while sharing different views about performing and theatre." Jalout wrote the script for the play Challenge and is part of the cast performing this week at the festival.
"This year we will see more plays in English which we believe will attract more people," states LAU student Jad Jbara, 21, who co-directed al-Hakim's play with Diana Kraitem, 23. While participating in the event has helped Jbara reach a higher level of self-confidence in directing, it has taught Kraitem to be more efficient. "We have very little time so we have to learn how to work well and fast!" she says.
This year, the festival is hosting around 150 performing arts students and instructors who will get the chance to share their expertise, experiences and to network. "We hope to have an increased budget in the future to include additional countries in the exchange that could not be present this year," noted acclaimed Lebanese director and LAU Associate Professor of Communication Arts Lina Abyad.
The 18th International University Theater Festival is free and open to all who wish to attend. Details on the festival's schedule of plays and workshops can be found here.