LAU Beirut hosts Member of Parliament in political science class
MP Ghassan Moukheiber delivers guest lecture critiquing Parliament and highlighting its functions.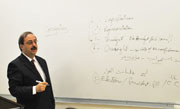 Lebanese Politics and Administration class hosted MP Ghassan Moukheiber for a lecture on Lebanese parliament.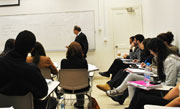 The lecture gave LAU international affairs students the opportunity to learn and interact with longtime civil society and human rights activist.
Dr. Imad Salamey, associate professor of political science and international affairs on the Beirut campus, hosted longtime civil society and human rights activist MP Ghassan Moukheiber in his Lebanese Politics and Administration class on November 4.
Moukheiber, a graduate of Harvard Law School and an MP since 2002, began by testing Salamey's students' knowledge of Lebanese Parliament, asking them to explain its functions in their own terms, before going on to offer his own critical assessment of it.
"Parliament in Lebanon had been hijacked over the years, and became in some ways a façade institution," Moukheiber said. He added that even today, parliamentarians sometimes spend more time campaigning than governing.
Indeed, according to Moukheiber, of Parliament's seven main functions — legislation, representation, budget allocation, oversight of the government, elections, providing services to the citizens and attending social events — the latter two take up the most time from parliamentarians.
"Free elections are only a part of democracy," said Moukheiber, adding that a functional parliament is absolutely essential. "Voting citizens tend to get very excited at the time of elections. But if the people they elect don't discharge the function they're supposed to, there's a big problem."
The time allocated for core parliamentary duties in Lebanon contrasts sharply — and according to Moukheiber, invidiously — with that of other countries.
For example, while parliamentarians convene for legislative purposes five days a week in the United States and three days a week in France, their counterparts in Lebanon do so only twice a year.
The last time Parliament voted for a budget, moreover, was six years ago, leaving Lebanon without a financial plan ever since.
Asked how any country can keep on running without a fiscal forecast, Moukheiber replied that "reality, especially in the field of political science, is not always what you study in the books."
Nevertheless, he says, "Parliament is now coming back to life, becoming once again a place where real decisions are made," he added.
Impressed with Moukheiber's blunt candor, Salamey describes the event as "an opportunity for our international affairs students to learn from and interact with a Member of Parliament, and discuss various issues of general public concern with him."
"His talk brings our students closer to the realism of politics, thus bridging academic acquisition with practical knowledge — which is the essence of teaching and graduating tomorrow's leaders," Salamey adds.
Moukheiber also spoke of Lebanon's National Human Rights Action Plan (NHRAP) and the effort to devise a national strategy on human-rights issues, including women's rights, foreign workers' rights, and torture in prisons.
Moukheiber has lectured, written and published extensively about a range of issues, with an emphasis on human rights, civil society, anti-corruption measures, protection of the environment and heritage, and most recently, parliamentary reform.