LAU bestows honorary doctorate upon Saudi prince
HRH Prince Alwaleed Bin Talal Bin Abdulaziz Alsaud receives an Honorary Doctorate Degree in Humane Letters during a ceremony at LAU Beirut.

LAU bestows an Honorary Doctorate Degree in Humane Letters upon HRH Saudi Prince Alwaleed Bin Talal Bin Abdulaziz Alsaud, at LAU Beirut on June 24.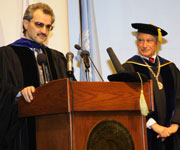 After receiving his degree, HRH Prince Alwaleed spoke of his mission of bridging the gap between cultures and societies.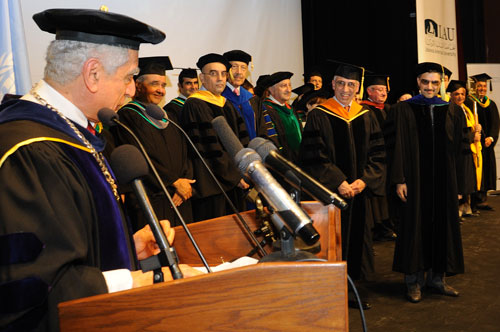 Jabbra (left) spoke of HRH Prince Alwaleed's charitable contributions around the world.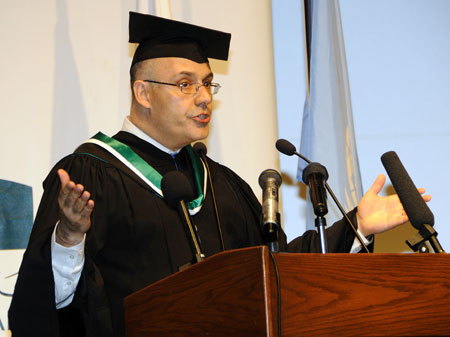 Elie Samia, director of the LAU Model United Nations program and of the Guidance Office in Byblos, thanked HRH Prince Alwaleed for his foundation's support of LAU MUNa.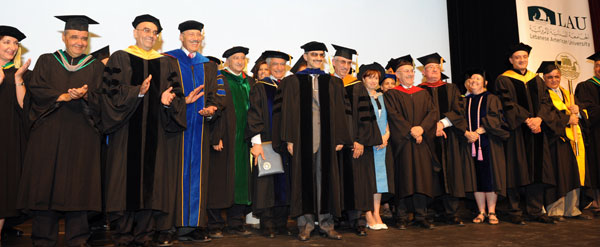 LAU officials and faculty members with HRH Prince Alwaleed.
Click on any photo above to view all five images.
LAU bestowed an Honorary Doctorate Degree in Humane Letters upon His Royal Highness Prince Alwaleed Bin Talal Bin Abdulaziz Alsaud, a member of the Saudi royal family, at LAU Beirut's Irwin Hall Auditorium June 24, during a ceremony that shed light on his years of charitable contributions to organizations and academic institutions around the world, including LAU.
The honorary degree was awarded in recognition of HRH Prince Alwaleed's major contributions "to understanding and dialogue among civilizations, among the religions of this globe, to helping the poor, and supporting noble causes and charities," said Dr. Joseph Jabbra, LAU president, during his opening remarks.
"You have become a passionate advocate for an effective bridge between East and West, a voice of sanity in a world where sanity does not always prevail," Jabbra added in reference to HRH Prince Alwaleed.
Upon receiving his honorary doctorate, HRH Prince Alwaleed said: "After 9/11, Islam and Arabs in general became under attack, so I decided to use the world of academia to try to bridge the gap between both communities — Islam and Christianity, West and East, and more importantly, between the United States and the Arab world."
In the West, HRH Prince Alwaleed has endowed several universities — including Georgetown and Harvard in the United States, and Cambridge and Exeter in the United Kingdom — with centers to enrich the understanding of Islam.
In the Middle East, he has funded American studies programs in the American University in Cairo and the American University of Beirut.
At LAU, the Alwaleed Bin Talal Humanitarian Foundation established a partnership with the university's Model United Nations program in 2008, which led to the program's "exponential growth," according to Elie Samia, the MUN program director, who is also the Guidance Office director in Byblos.
Established in 2005, the program gathers thousands of high school students from across Lebanon for a series of training sessions, to teach them negotiation and conflict-resolution skills and prepare them for the annual MUN high school conference at LAU each spring.
During the ceremony, current and former participants of the LAU MUN program spoke of their achievements and successes over the years, particularly during last month's international UNA–USA Model UN Conference in New York, where five high schoolers from the program took home six awards.
"A successful person is a normal person with focus," Samia said. In reference to HRH Prince Alwaleed, he added: "You are an extraordinary person, with tremendous focus whose entrepreneurship and cosmopolitanism has been bewildering and stunning for us. That's why the [LAU MUN] students were capable of reaching so high."