LAU biology buffs share knowledge at annual science fair
LAU's stand at the four-day "Science Days" event attracted visitors of all ages to learn about cells, diseases and the human body.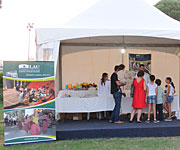 Biology students staffed LAU's stand during the four-day "Science Days" fair where they set up games, microscopes and other educational activities.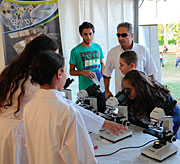 LAU-stand visitors examine bone, flesh and stomach tissue under microscopes.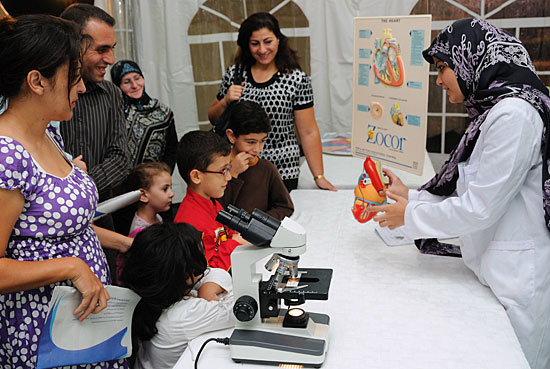 An LAU biology student takes visitors of all ages through the different parts and functions of a human heart.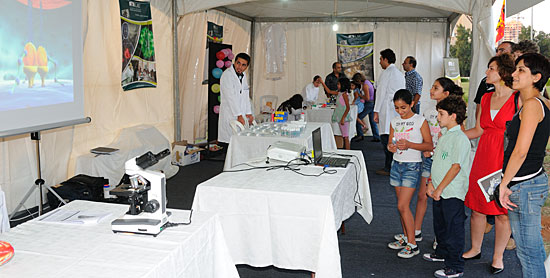 Biology films were projected onto a screen at LAU's stand catching the attention of passers-by.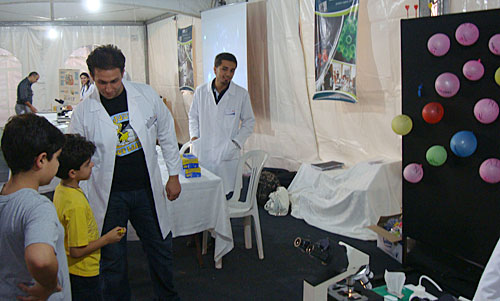 Visitors had the opportunity to throw darts at a board to try to pop balloons with names of viruses written on them.
Click on any photo above to view all five images
Visitors of all ages flocked at LAU's stand during the second annual "Science Days" event, held from October 14-17 at the Beirut Hippodrome, where around a dozen LAU biology students shared their scientific knowledge about diseases, cells and organs.
Second-year LAU biology student Moustapha Itani quizzed visitors on their knowledge of viruses. He also handed out bottles of hand sanitizer bearing the university's logo to those who could pop balloons strapped to a board and on which names of various diseases were written.
Itani said he hoped to dispel myths about certain illnesses through education.
"If you have a disease like HIV AIDS, it's a taboo in our society and culture," he said. "It doesn't mean that a person with HIV should be a social reject — it just means that they were infected with a disease, just like tuberculosis or some other virus."
LAU stand visitors were also invited to view tiny samples of bone, skin and stomach cell tissues under microscopes.
Small crowds gathered around a student who used a human heart made of plastic to show the four chambers and explain their functions.
Last year, LAU chemistry students participated in the same event, which was attended by 13,000 people over three days, according to organizers.
"Our participation in last year's science fair was a tremendous success so we decided this year to challenge ourselves by making our presence more interactive, fun and educational," says Riman Jurdak, program coordinator at LAU's Beirut Guidance Office. "Judging by the reactions of the visitors, I'd say we all did a splendid job."
This year, the event featured around 30 stands where demos were presented by various universities, schools, research centers and organizations. It was run and sponsored by the Swiss Embassy, the Municipality of Beirut, and the Lebanese Ministry of Culture.
"The aim of this exercise is to make science enjoyable and fun," says Najwa Bassil, the event's organizer. She adds that the activities were intended to appeal to children, adults and specialists alike.
The fair also featured an exhibit of 50 photos from space, to recognize 2009 as the International Year of Astronomy, as declared by the UN General Assembly. This year coincides with the 400th anniversary of the first recorded astronomical observations made with a telescope by Italian scientist Galileo Galilei.