LAU boasts another success at Harvard MUN
For the second year in a row, LAU students participating in the event win big and bring back no less than nine awards.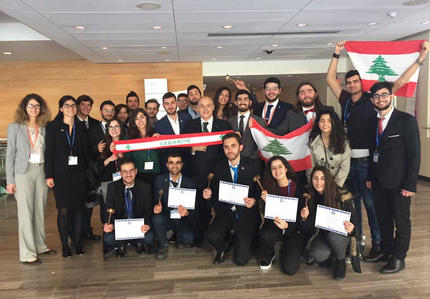 LAU's delegation to the Harvard World Model United Nations (WorldMUN) competition brought home an unprecedented nine awards, including five Diplomacy Awards and four Verbal Commendations.
"The experience is best described as the Olympics of Model-UN," says LAU finance major Badih Salha, freshly returned from Montreal.
The five-day event that took place last month brought together 2,000 students from 130 international universities who participated in simulated exercises aimed at proposing solutions to the world's most pressing problems.
According to Elie Samia, LAU assistant vice president for Outreach and Civic Engagement, the victories "consecrated LAU as one of the best universities in the world in Model United Nations." The university's involvement in MUN simulations both in Lebanon and abroad has grown steadily over the years, culminating in 2015 when LAU was asked to spearhead the annual United Nations Global Classrooms International Model UN conferences in New York.
Success at the Harvard MUN competition, which Samia points out is the "most prestigious MUN conference in the world," represents yet another milestone in LAU's efforts to train students capable of positively engaging with and transforming the world around them. Far more than a mere extracurricular activity, participation in events such as the Harvard MUN gives young people a competitive edge once they graduate and enter the workforce.
"Participating in MUN put me in the shoes of world leaders solving global problems, which is the place that I would eventually like to reach," says political science and international affairs student Marc Tohme. "It helped me acquire skills such as public speaking, improvisation, research and role play … MUN creates a culture of team spirit, collaboration, cooperation and leadership, which is a great addition to any experience."
Samia, for his part, stresses that "there is a positive correlation between student leadership programs such as the Harvard World MUN and employability." By participating, students acquire a range of skills that include project management, time management, budgetary and communication skills, among others. "They learn to work under pressure and assume responsibilities for their actions," he emphasizes. "All of these traits sharpen their professional skills and prepares them to embark on professional careers with a superior level of professional legitimacy, cognitive preparedness and psychological readiness."
What is more, participation in events such as the Harvard MUN does not only benefit students who wish to become diplomats in the future. "I'm currently studying biology to become a doctor later on, and while some people think my major has nothing to do with MUN, I beg to differ," says Laeticia Kamel, also a member of LAU's delegation to Montreal. "MUN teaches us the art of speaking in front of an audience, how to negotiate, research in depth about a certain subject and take a stance different than our own. Those are all helpful skills I will definitely need in any career I choose."
Chair of the Department of Social Sciences Marwan Rowayheb, who has been involved in the UN program at LAU since he joined the university in 2004, has witnessed first-hand the advantage students have gained from the program. "It is a major learning tool that prepares students to face life once they walk out of our campus," says the associate professor of political science and international affairs. "It helps them understand the complexity of our world, how problems should be resolved and that compromise is the only way to make our world a better place."