LAU boosts career prospects for students and graduates
Career fairs and networking event offer job opportunities despite the global financial crisis.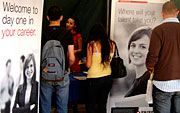 Career fair on the Byblos campus.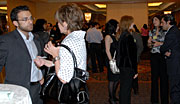 Networking reception for alumni.

Click on any photo above to view more pictures of the career fairs and the networking reception.
Face it. Graduation is right around the corner and the job market feels like a black abyss within the global recession.

But LAU students don't need to worry, because LAU's Alumni Relations and Guidance offices took the bull by its horns and helped previously anxious students and graduates combat the financial crisis, with tailored events last month.

Career fairs for students from both LAU campuses featured human resources representatives from national, regional and international companies, May 12–13.

Separately, the Third Annual Business Networking Cocktail Reception was held for graduates from both campuses at the Gefinor Rotana Hotel, Beirut, on May 13.


Introducing students to Lebanese industry

In a country such as Lebanon where thousands of graduates leave the country on graduation every year to pursue professional opportunities abroad, the career fairs in Beirut (May 13) and Byblos (May 12) offered what will hopefully be a new trend in the country, with graduates staying in Lebanon to work with top employers.

Excited students rushed to make extra copies of their CVs as the career fairs featured such popular national, regional and international employers as Middle East Airlines, Deloitte, HSBC, PricewaterhouseCoopers, Mövenpick Hotel & Resort–Beirut, Procter & Gamble, Kabab-ji, Teach for Lebanon, and many more.

Recruitment officers from 83 companies came to the Beirut campus and 59 to the Byblos campus.

The companies represented a variety of sectors such as IT, hospitality, insurance, engineering, design, education, retail, accounting and banking.

Aya Mir, a career guidance officer at LAU–Beirut, says the number of LAU students and alumni getting hired through the LAU job fairs is increasing every year. "We had around 37 [people recruited] in 2007 and around 90 in 2008," she adds.

Rania Barakat, the HR officer for Credit Card Services Company said, "We have always heard that LAU has a high standard of student applications." According to Nuhad Tahan, HR manager at Ernst & Young, LAU students make up about "20 to 30 percent" of the firm's recruits.

For the students, the career fair offered them a lot of great opportunities. "I had so many options and they weren't all from a specific field — there was HR and sales, banking, accounting," said Rahaf Abdallah, a third-year business management student.

Other services the Career Guidance Office provides students include access to Vault career information guides that teach students how to write CVs and cover letters, and even learn more about popular employers in Europe and North America.


It's all about networking

While the career fairs mainly addressed LAU current students' needs, the Third Annual Business Networking Cocktail Reception gave the opportunity to LAU graduates to come closer to high-level representatives of leading companies from Lebanon and the Middle East in a friendly setting.

Alumni Relations Director Abdallah Al Khal said the reception offered LAU alumni the chance to make contacts and create their own opportunities.

"The purpose of the reception is [to provide] an opportunity for the graduates of the past 10 years to mingle with HR directors of prominent companies and discuss market demands in an informal setting leading to a wide exchange of business cards, possible interviews and eventually employment," said Al Khal.

LAU alumnus Alain Yazbeck was invited to share his experiences on the road to becoming the supply and initiative manager for Procter & Gamble. He said a job fair he attended on LAU's Byblos campus in 2006 played an integral role in his achievements.

Yazbeck also offered suggestions on how to help graduates with their quest for employment amid the current economic crisis.

He explained: "The job market is becoming more competitive and LAU graduates will need even more support from the Alumni and Guidance offices to connect them with the market and expose them to the opportunities available."

"Students were very pleased with the efforts of LAU to provide them with the opportunity to find jobs or better ones for those who are already employed," said Al Khal.