LAU brings the Arab American Book Awards ceremony to NY City
The Arab American National Museum celebrated recipients of the 10th annual Arab American Book Awards in a ceremony at LAU's New York Academic Center.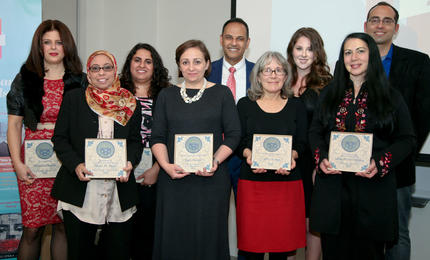 The Arab American National Museum (AANM), located in Dearborn, Michigan, hosts the awards every year to honor books by and about Arab Americans. This year, it partnered with LAU to bring the award ceremony to New York City for the first time.
"New York is the home of Arab American literature, so this is a chance to honor that, to be close to that, and to bring out a new community of audience members," said Kirsten Terry-Murphy, AANM librarian. "It is immeasurable what LAU has offered us: the space, the staff, the support," she said. "Through their help, this was all possible."
This year's seven recipients included writers of Lebanese, Palestinian and Egyptian descent, whose works were reviewed by genre-specific committees.
"It is an honor to be recognized for one's work, but it is also a recognition of the body of work that makes up Arab American literature today," said Moustafa Bayoumi, author of This American Life: Dispatches from the War on Terror, which received The Evelyn Shakir Non-Fiction Award.
Mejdulene Shomali is an assistant professor in the Department of Gender and Women's Studies at the University of Maryland. "As an Arab American writer myself, it is incredibly meaningful to know that our community is excited about our work, and wants to elevate it," said Shomali who served as a judge in this year's competition.
More than a celebration of books, declared Matthew Stiffler, research and content manager at the AANM, this is "a space for the writers and readers to call home … a yearly gathering where people who toil over their books for years can come and be appreciated by their own community."
That feeling of intimacy resonated at the event. "It is the only book award ceremony that feels like a family reunion," said Susan Muaddi Darraj, author of A Curious Land: Stories from Home, as she received an award in the fiction category.
A Lifetime Achievement Award was given to late novelist and journalist Afifa Karam, who was born in 1883 in the Lebanese village of Amshit and came to the U.S. when she was a teenager. Her work was instrumental in bringing about the idea of Arab American literature, especially for women, "so we wanted to honor her in New York City where it all started," Stiffler said.
"AANM and LAU share the common goal of celebrating Arab American culture and heritage," said Lina Beydoun, academic executive director at LAU NY. "I look forward to future partnerships that highlight the wonderful body of work Arab Americans are producing."
Handbook of Arab American Psychology, edited by Mona Amer and Germine Awad, also received an Evelyn Shakir Non-Fiction Award, while Nathalie Handal's The Republics won The George Ellenbogen Poetry Award. Philip Metres' Sand Opera and Rajia Hassib's In the Language of Miracles each received an honorable mention.