LAU builds a bridge to the U.S. for its nursing students
LAU's school of nursing is the first in the region to sign an agreement with LAMA, which commits to funding training for its students in the U.S.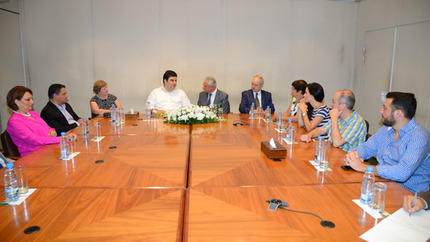 A panel of representatives from LAU and the Lebanese American Medical Association (LAMA) reunited on August 5 to sign an agreement that constitutes a new milestone on the success path undertaken by the Alice Ramez Chagoury School of Nursing (ARCSON).
"It is a pleasure to be affiliated with a top-notch university like LAU. This is the first school of nursing to be affiliated with us in the region," said Firas Harb, president of LAMA, following the signing of the agreement. "I am sure we will be able to provide a good bridge for your students."
As an accrediting and academic training non-profit organization, LAMA provides Lebanese medical students and graduates with the opportunity to improve their learning experience through clinical rotations at various hospitals throughout the U.S.
In the agreement signed with ARCSON, LAMA commits to granting 15 to 25 scholarships to nursing students and graduates that cover their training costs.
LAU President Joseph G. Jabbra welcomed Harb to LAU, while Nancy Hoffart, funding dean of the school, expressed her delight at the latest achievements of a school established as recently as 2009.
"I am very appreciative of your interest in nursing, which is remarkable given that lots of people still do not understand it in the region," said Hoffart, addressing Harb. "This is a success not only for LAU but for nursing."
Similarly, the university's schools of medicine and pharmacy are bound to strike an agreement with LAMA in the coming months and benefit from the support of an organization affiliated to first-rate teaching hospitals and medical centers.
"We seek to expose Lebanese students to the U.S. health care system in order for them to expand their knowledge and access new job opportunities," explained Jawad Saade, student affairs coordinator at LAMA. Among the many benefits of the agreement, Saade cited the availability of review courses for the National Council Licensure Examination (NCLEX), a requirement for registered professional nurses in the U.S.
"What students will learn the most is how to communicate with their patients, which is still a major weak point in Lebanon," said Saade. "We do hope that, after their training, they will come back to Lebanon and contribute to advancing the quality of our health care system," he concluded.