LAU business graduate receives research award at U.S. conference
Linda Nasr, who now works at LAU's School of Business in Beirut, has achieved international acclaim for her M.B.A. project on organizational behavior.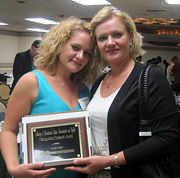 LAU business graduate and staff member Linda Nasr (left) holds her Distinguished Research Award at the Fall 2010 Allied Academies International Conference in Las Vegas, where she presented her M.B.A. project on organizational behavior. She stands with her mom, her special guest for the event.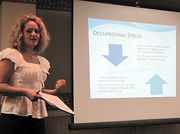 Nasr presents her winning paper on Lebanese workplace norms at the conference.
Linda Nasr, an LAU graduate and current staff member, received the Distinguished Research Award in the Organizational Behavior category for her final M.B.A. project, at the international conference of the Allied Academies held in Las Vegas, USA, from October 13-16.
The Allied Academies is a non-profit federation of 14 affiliate academies that publishes 17 different journals in various fields of business.
Nasr, 25, graduated in the spring of 2010 and now works as an executive assistant in the Dean's Office at the School of Business (Beirut campus).
"When my advisers and I were picking the topic in the beginning, I knew I wanted something that would be published or at least that someone would be interested in reading," she says.
She decided to focus on determining what type of workplace commitment is more vulnerable to stress and what type leads to a longer career path.
"What kind of commitment does a person have to his job? Is it for the money? Is it for the culture of the organization he's working for? Or is it out of loyalty to the organization? How is each type affected by stress?" Nasr explains.
The paper, titled "The Relationship between the Three Components Model of Commitment, Workplace Stress and Career Path: Application to Employees in Medium Size Organizations in Lebanon," took Nasr a year to write.
She was surprised by the lack of literature on the subject, not just in Lebanon, but also in the Middle East.
Her primary research came from the results of 100 survey questionnaires with full-time and part-time employees working in medium-size organizations in Lebanon.
After getting positive feedback from Dr. Silva Karkoulian, her adviser and an associate professor at LAU's Business School; Dr. Leila Messara, project reader and an assistant professor; and Dr. Tarek Mikdashi, the school's dean in Beirut, Nasr sent a manuscript to the Allied Academies.
"Her paper stood out because of interesting and creative findings in her research," says Karkoulian, who has known Nasr since 2007, as her teacher and co-author of another paper.
After the Allied Academies accepted her paper, Nasr was invited to present at the organization's fall 2010 international academic conference last month.
"I was already delighted with the idea that my paper had been accepted. But one day before traveling, I found out that I had also won the Distinguished Research Award," she says.
Nasr's paper will be published in the Journal of Organizational Culture, Communications and Conflict.