LAU Byblos applauds its class of 2016
More than 800 graduating students march, cheered by family and friends.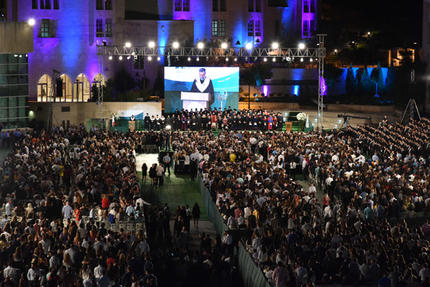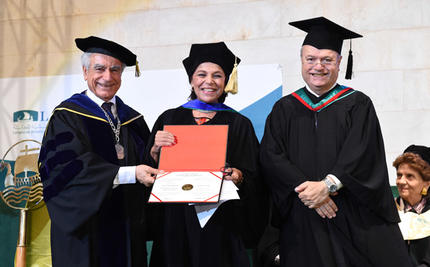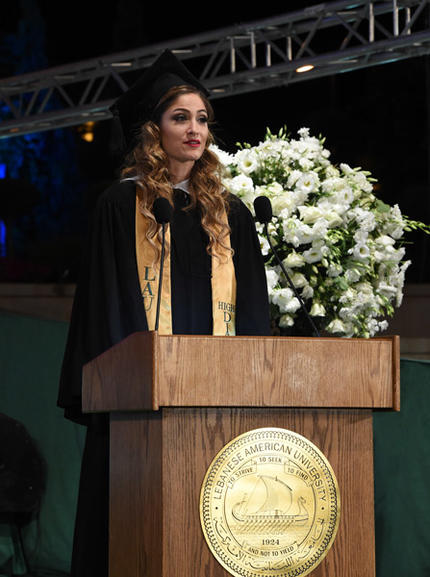 Eight young women dressed in green carried a length of ivy and laid it on the stage to mark the opening of the LAU Byblos campus commencement ceremony last night. "It is an honor to represent our university and walk alongside our graduating friends," said Majd Awad of her participation in the LAU tradition that commemorates the university's beginnings as a women's college.
More than 800 graduating students in cap and gown followed, walking through crowds of cheering family and friends before taking their seats and welcoming the faculty, bedecked in their doctoral gowns, onstage.
While professional photographers circled the galleries, and videographers and drone cameras captured every moment from multiple angles, transmitting them via live-stream to the LAU website, proud parents stood with phones in hand to record the smiles and joy on their children's faces as they filed past to join their peers.
"May peace always live in your hearts and in your homes," President Joseph G. Jabbra said addressing the graduates. "May daily problems never cause you undue anxiety, nor the desire for earthly possessions dominate your lives. May you always be wise, strong, gentle, and forgiving."
Also offering advice to the graduates was valedictorian Rita Iskandar, who encouraged her peers to live boldly and follow their hearts, as well as former first lady and minister Nayla Moawad, who delivered the commencement address in the cap and gown presented to her by Jabbra and Provost George K. Najjar as a symbol of the honorary doctorate in humane letters bestowed on her by LAU.
"Have faith in yourself and your country and do not allow despair in despite the difficulties," said the widow of former Lebanese President René Mouawad after delivering a polemic against the state's systematic failure to support and nurture the citizens of Lebanon. "Revolt against corruption and for accountability and for Lebanon … Carry the weapon of education to face challenges and have faith that the future is for you and that Lebanon needs you."
Tatiana Karam Abou Jaoude was among the graduates whose service to others and to Lebanon was recognized on the night. Her years as a trainer within LAU's outreach and civic engagement programs, including the flagship Model United Nations and the Model Arab League, were among the many reasons Abou Jaoude was selected to be a recipient of the Torch Award. "LAU's outreach programs attracted me to the university in the first place, and as a political science and international affairs major it was important for me to be active in helping others," said Abou Jaoude, who was among the first graduates to step up on stage and shake Jabbra's hand.
Students graduating from programs in all seven schools followed suit, many in white, green or gold stoles to mark their distinct academic performance, each one's name called, each one congratulated personally by the president and the dean of their school. One graduate of the School of Architecture and Design went up on stage armed with a selfie stick to grab a special photograph with Dean Elie Haddad, who had invited his students onstage after reading an oath affirmed by all with a passionate "I do."
Oaths were also taken by students of the schools of engineering, pharmacy, nursing and medicine, and while each was worded differently, a dedication to advancement and service to others was common to all. This, highlighted Jabbra, is at the core of LAU's mission. "Despite all our achievements, Ladies and Gentlemen, our motto is the 'Magis,' more. We need to do more, to be indefatigable, to continue to self-improve in serving the young people of Lebanon, the MENA region, and beyond. Excellence is our passion forever and LAU our pride!"