LAU Captains defend USC championship title
Byblos-campus basketball varsity team wins the Men's Basketball University Sports Conference (USC) championship.
The LAU Captains, the Byblos-campus basketball varsity team celebrated their victory in the final of the Men's Basketball University Sports Conference (USC) championship June 2.
For the second year in a row, LAU Captains lifted the prestigious USC cup, defeating AUB, USJ, Balamand, Antonine University, USEK, Haigazian University as well as the LAU Beirut-campus basketball team.
The nail-biting semifinals saw a display of sibling rivalry as both LAU's campuses went head-to-head, with the LAU Captains beating out their brothers, the LAU Sailors in a series win of 2-1.
In the finals, the Captains faced off with USEK and continued their winning streak with a series win of 2-0.
According to coach and Director of Athletics at LAU Byblos Joe G. Moujaes, the USEK team proved to be a worthy adversary but the LAU Captains' fighting spirit and aggressive defense strategy early on in the game overwhelmed the USEK offense.
Khalil Aoun, management student at LAU Byblos and Most Valuable Player award winner attributes his team's triumph to an intense hunger to win, saying, "despite our successful season, we were playing as though we were the underdogs."
Third-year industrial engineering student and captain of the LAU Byblos basketball team, Milo Abou Jaoude, suggests that the success of the team is a result of Coach Moujaes' expert leadership, adding, "our team is like a family, we work hard and have a strong team spirit."
Reflecting on the outstanding display of sportsmanship, Moujaes proudly says, "with this great victory we proved to college basketball in Lebanon that we are the best." Pledging to continue on this path, he already has his sights set on winning next year's championships, determined to achieve a 3 peat (i.e. winning three titles in a row).
The historic win was a fitting end to a record-breaking year; the LAU Captains suffered only one loss during the regular season.
The season begins in mid-November and ends the first week of June.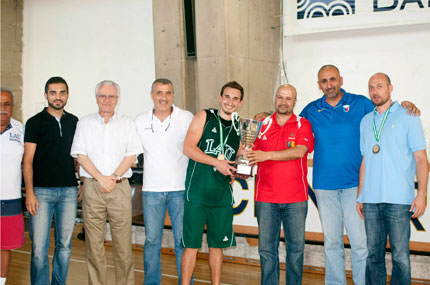 Captain Milo Abou Jaoude receiving the USC Cup.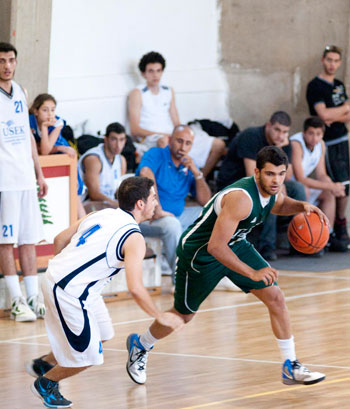 Karam Mechref and teammates demonstrated a fighting pirit that overwhelmed the opposing team.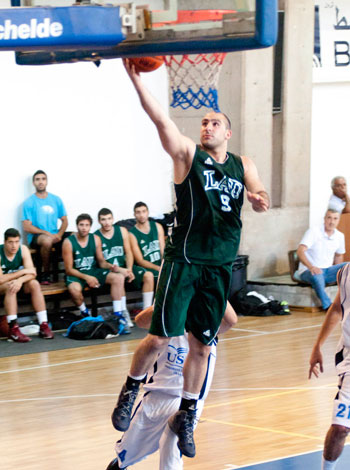 Khalil Aoun scoring for LAU in the final game.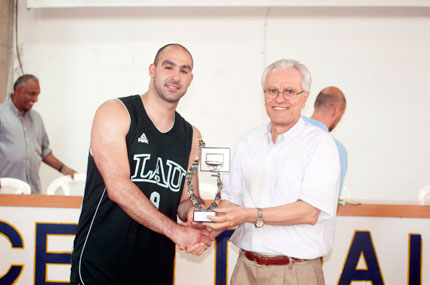 USC 2012 MVP Khalil Aoun receiving his trophy from Dr. Semaan, dean of students at LAU Byblos.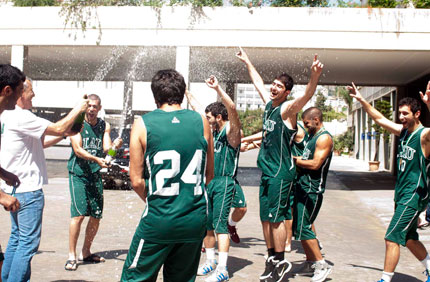 LAU Captains basketball team players celebrating their second title in a row.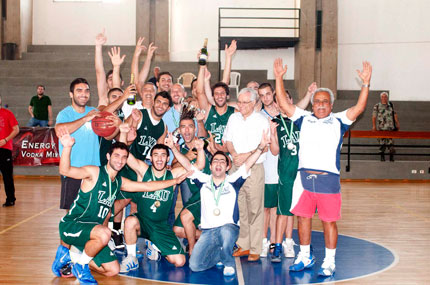 A family celebration.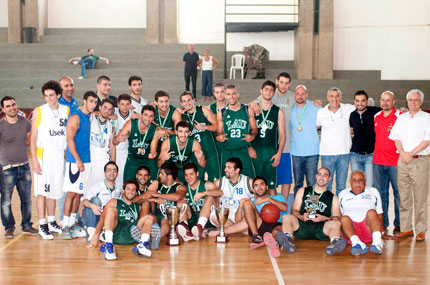 LAU Byblos and USEK teams.