LAU career fairs witness unprecedented participation
In pictures — The Byblos and Beirut Guidance offices welcome dozens of high-profile local and international companies to annual career fairs.
In pictures —
Dozens of high-profile local and international companies filled the booths set up across the Byblos and Beirut campuses during the annual career fairs on May 10 and 12, respectively. Byblos hosted 74 companies while Beirut saw a whopping 113, significantly more than in previous years. The companies represented various business sectors in the country, including media, advertising, hospitality, banking, and included some NGOs as well.
 
Byblos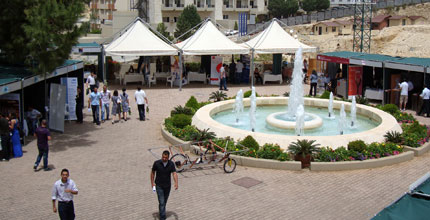 Tents to accommodate all the companies in Byblos stretched across the campus from the Selina Korban Auditorium to the cafeteria.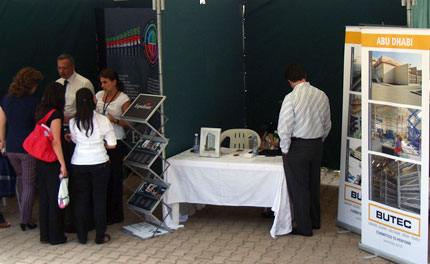 With their CVs in hand, students made rounds throughout the campus meeting with the employers.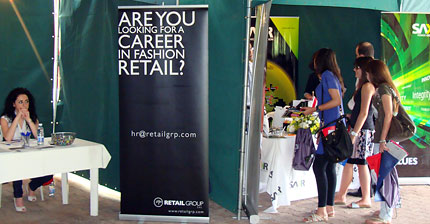 "It's an opportunity for graduating students to meet directly with employers rather than just anonymously submitting their CVs online," says Rana Sakr, career guidance officer in Byblos who organized the fair. "It also helps juniors secure internships."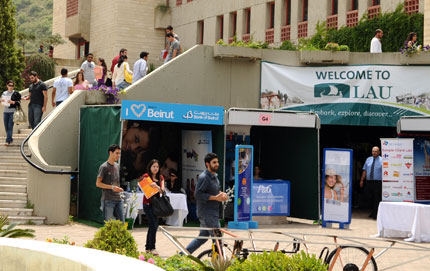 "The quality of the companies we host is very important," Sakr says, explaining how her office reached out to reputable companies.
Students appeared excited and optimistic during the event as they applied for positions with some of the top companies in the region.
There were also two recruitment presentations during the career fair by Bank Audi and Credit Libanais.

Beirut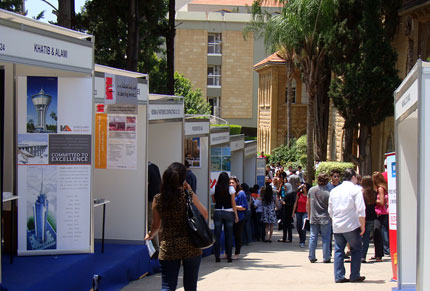 The 113 companies that participated in this year's career fair in Beirut represented a 35 percent increase over the 81 companies that were hosted in 2009. According to Aya Mir, career guidance officer in Beirut over the past six years, the number of participating companies in Beirut has hovered around 80 until this year.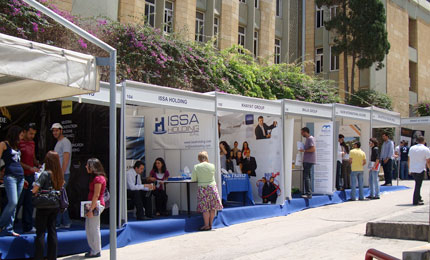 There was barely enough space to accommodate all the booths, forcing organizers to scour for room in front of the Business Building, Safadi Fine Arts Building, Irwin Hall, Upper Gate, and along the pathway leading from Nicol Hall toward the Orme Gray Hall.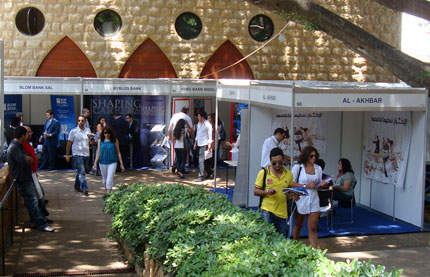 "Lebanon was not impacted as severely as the Gulf by the financial crisis which caused a lot of companies to move over here," Mir says, as she lists some possible reasons why LAU witnessed such a high turnout of companies this year.


Mir says preparations for the event have been ongoing over the last several months.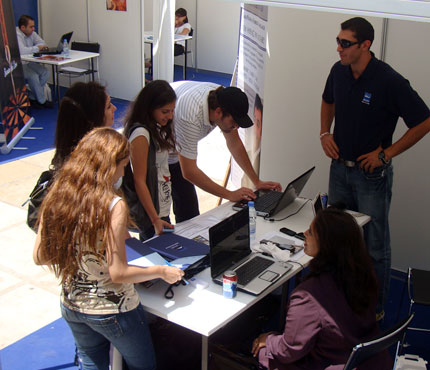 "The job fair allows students to communicate directly with the companies," Mir says. "It's much better than using email to meet with employers."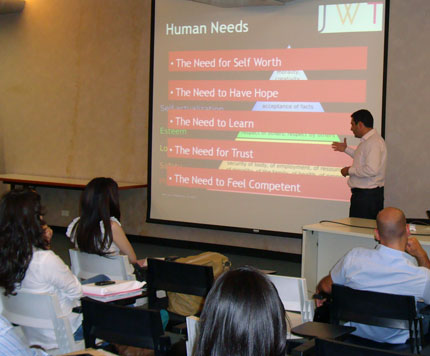 The event included one presentation by a recruitment officer representing a leading international advertising agency, JWT.