LAU celebrates graduates of continuing learning program
Colleagues, family and friends gather at LAU in support of the 150 new graduates of the Continuing Education Program.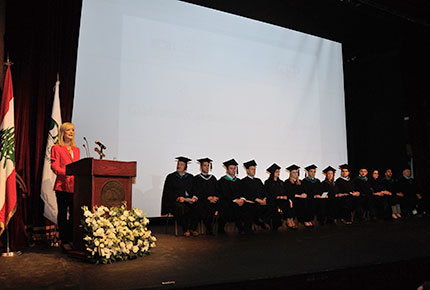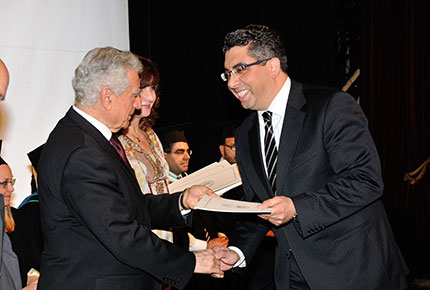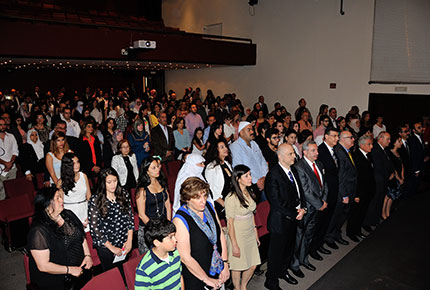 Students of eleven different programs of LAU's Continuing Education Program (CEP) were handed certificates on May 16 at a graduation ceremony to celebrate their achievements.
"We love our students and our graduates," said university President Joseph Jabbra at the ceremony; "but we don't give anything for nothing," he added, referring to the dedication and commitment shown by the graduates who had congregated with family and friends at Irwin Hall.
CEP coordinator Rajaa Habib, who played master of ceremony at the festivities, agreed. "These are days of tremendous changes in our region, and our ability to adapt depends on our level of knowledge and education. Today we celebrate our graduates who chose this university to advance their educational levels and are now equipped with the academic and professional skills needed to take on new opportunities and demands."
Also adapting to opportunities and demands is the CEP itself. The program was launched 25 years ago, and experienced an exponential increase five years ago when its offering grew from five to 30 programs. "Now we are looking to grow again. We are conducting studies in order to develop new programs that are shaped by the various and developing needs of industry, markets and professionals," explained CEP director Michel Majdalani.
Majdalani was on stage Friday to shake hands with the graduates, together with Jabbra and LAU Provost George Najjar.
"Human assets depreciate just as physical ones do," said Najjar during the ceremony, "and our continuing education program is most special. It is a window on opportunities missed and chances lost."
The celebrated graduates grabbed those opportunities and around 150 were awarded a diverse array of CEP certificates, diplomas and professional qualifications, covering skills in pre-school education, physical fitness, graphic design, HR management, business skills, inventory management, financial analysis and project management.
Elias Abu Shaaya received a diploma in capacity building for NGOs and was named this year's outstanding postsecondary candidate. Shaaya took the decision to enroll at LAU with his employer, a local NGO. "This university is one of the best in Lebanon and the instruction was amazing. I met with many other NGO professionals here and now our organizations run programs together."
Like many CEP students, Shaaya attended afternoon and evening courses while continuing to work. Others, like Ruba Hassan, studied for a certificate while enrolled in undergraduate studies. "I attended nine hours of classes weekly while also studying for my B.A. in psychology and social studies." Hassan now works as a program coordinator in Aley. "Methods in education keep evolving and so taking this course at LAU was essential to ensuring I kept my skillset up to date. The communication between student and instructor here is good. LAU is unique."
Jabbra couldn't agree more: "This university is unique because we are profoundly committed to serving others. We, university and students, are because of each other."