LAU celebrates the first regional clinical simulation graduates
Practitioners from different health schools in Lebanon graduate with a diploma in Clinical Simulation offered by the LAU School of Medicine, the first of its kind in the region.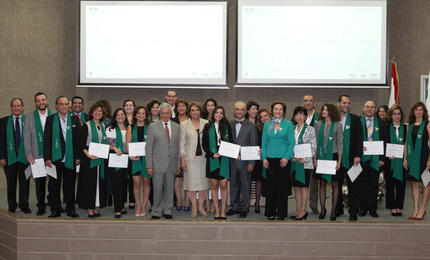 To err is human, a famous proverb recites, but when a medical mistake is made it can have severe repercussions for both the caregiver and patient.
The Diploma in Clinical Simulation offered by the LAU Gilbert & Rose-Marie Chagoury School of Medicine in collaboration with the University of Illinois is the first in the MENA region to address the gap between theoretical learning and medical practice.
The 22 participants, including practitioners and trainers, will use their newly acquired knowledge for the benefit of their students and fellow colleagues.
"This gathering marks the distribution of the first diploma of its kind in the entire region," said LAU President Joseph G. Jabbra at the graduation ceremony held in Byblos last week. "It symbolizes the importance of simulation-based education and the need for all professionals to have excellent training."
LAU's Clinical Simulation Center―the first to be made available in the region―offers a safe environment in which practicing health providers are able to develop and test their skills when confronted with diverse and recurrent medical scenarios. As well as improving the students' learning experience, the Center also offers researchers the opportunity to experiment and test their own theories.
According to Interim Dean Dr. Zeinat Hijazi, it all started "with the dream and vision of having a medical school that would make a difference." Construction begun back in 2007 and slowly grew into a full-fledged clinical simulation center thanks to the collaboration of LAU's directorate, faculty members and students.
Carine Zeeni, anesthesiologist at AUB, spoke on behalf of the graduates about their experience. "This course brought together health care professionals from different backgrounds but with only one aim: to better themselves," she said, "I thank LAU for providing this opportunity."
The graduates, who come from different Lebanese health schools, are now ready to train students and staff on the use of clinical simulation tools. Mahmoud Ghouzail, clinical instructor at LAU, was among the participants. "We examined the style of debriefing―for example group assessment versus individual―and the timing in which this should be conducted," said Ghouzail, "this helps us understand the way we train our own students and how we can improve our performance."
Director of the Clinical Simulation Center Vanda Abi Raad explained that the venue is projected to become a center of excellence for clinical simulation. "Our aim is to create a community of practice for clinical simulation where all our graduates will interact, share ideas and network."