LAU commemorates 100th anniversary of the Armenian Genocide
Journalism student Elsy Bejjani chronicles the university's efforts to mark the centennial.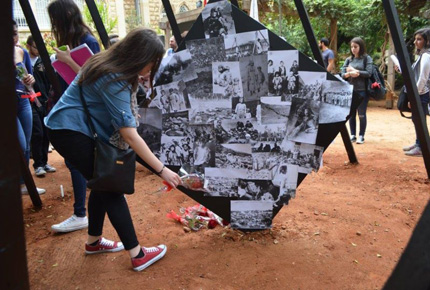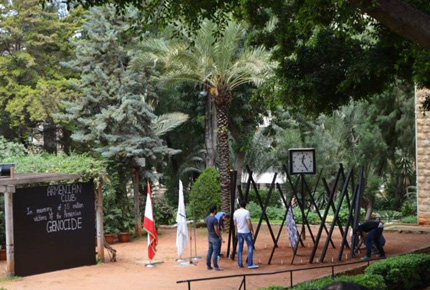 Pope Francis set off a diplomatic firestorm this April by publicly calling the mass atrocities committed by Turks against the Armenians of the Ottoman Empire in 1915 a genocide. In response, the Turkish government – which claims that the acts of violence were inter-communal rather than a larger extermination plan – recalled its ambassador from the Vatican.
Demonstrating its support to the large Armenian community in the country, the Lebanese government closed schools on April 24 this year to commemorate the centennial of the massacres.
At LAU, the Armenian student clubs on both the Beirut and Byblos campuses spearheaded solemn memorial events to raise awareness about the Genocide and honor its victims. On March 23, the Beirut club cooperated with the School of Arts and Sciences to hold a talk by faculty member Katia Peltekian, titled "Political Interests Trump Humanity: The British Government and the Armenian Genocide of 1914-1923." The talk was followed by an exhibition of newspaper clippings from that era from American, Canadian and the British press, reflecting the international uproar.
During the lecture, Peltekian expressed her view that although there is now an independent Armenian state, this does not necessarily mean that Armenians will stop demanding the return of their ancestral lands in what she called the "occupied territories of Cilicia and Western Armenia."
On April 20, the Armenian club at LAU Beirut followed up Peltekian's lecture with an event titled "What do LAU students know about the Armenian Genocide?" screening a short film of a dozen or so LAU students who were interviewed to test their knowledge on the subject. Later that same day, the club unveiled a modern reproduction of the Tsitsernakaberd, the Armenian Genocide monument in Yerevan, in front of Irwin Hall. Students laid flowers and lit candles around the monument, paying their respects to the Genocide's 1.5 million victims.
Concurrently, the LAU Byblos Armenian Club paid tribute to the victims with performances by the international pianist Guy Manoukian, poet Hadi Mourad and journalist Habib Younis. Introducing the event, club president Armand Torsakissian highlighted the role of the forget-me-not flower as the official emblem of the centennial year of the Armenian genocide, saying: "it expresses the theme of eternal remembrance."
The Beirut campus' Armenian club distributed free bottles of water to students, emblazoned with a purple forget-me-not and the slogan "water is your right, so is living." Club president Nanor Nahabedian explained that the main aim was to communicate with our students about the Armenian Genocide. We wanted them to know that as it is spring and water is a necessity, it is their right to have water for free as it was our ancestors' right to live."
Dr. Selim Deringil, a professor of history at the university, expressed his emotional attachment and support for these efforts. "As a Turkish historian I have always worked toward genocide recognition," he said. "However, realistically speaking, I do not think the Turkish government will recognize it as genocide. What has to be done is increase civil society contact between Turkey and Armenia."