LAU Communication Arts cooperation reaps rewards
LAU film visiting instructor Anna Fahr cooperates with instructor Niam Itani and LAU students on Transit Game sweeping international film festivals off their feet.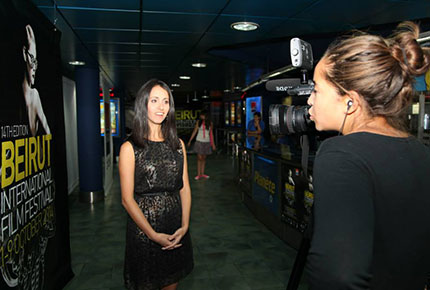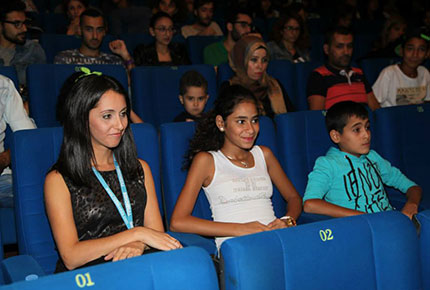 On a remote road in the northern mountains of Lebanon, eleven-year-old Palestinians Saad and Nada spend their days peddling newspapers to passing drivers. When a Syrian man named Mohammad runs out of gas leaving his car stranded along the side of the road, Saad offers to take him to a nearby service station and on the way learns of his escape from the war in Syria and the family he left there. Transit Game is a momentary encounter between two generations of refugees living in exile who find a temporary home in Lebanon.

The 2014 short film, written and directed by LAU visiting instructor Anna Fahr, is making waves at film festivals worldwide. Transit Game won Best Short Film at San Francisco's Arab Film Festival and Second Prize at Interfilm Berlin International Short Film Festival. It was chosen as an official selection at London Palestine Film Festival, BBC Arabic Aan Korb Documentary and Film Festival, Boston Palestine Film Festival, St. John's International Women's Film Festival, Beirut International Film Festival and Malmo Arab Film Festival.
Fahr worked on Transit Game with another instructor, Niam Itani, a cooperation born in the LAU Fine Arts building. Itani first came on board with Fahr as a script consultant and translator, eventually becoming a co-producer for the film.

"Niam Itani and I met when she was teaching a course in screenwriting at LAU. I had just started at LAU and told her about an idea for a short film I had in development," explains Fahr.

"Anna and I were sharing an office," adds Itani, who is also an LAU alumna. "As part of my contribution to the Communication Arts department, I was reviewing students' screenplays at the time. So when Anna told me one day that she would appreciate it if I could look at a script that she wrote, I was thrilled. That was the beginning of our long collaboration," says Itani.

LAU also contributed through its School of Arts and Sciences Research and Development Fund and is credited as one of the film's funders.
"As a filmmaker and foreign faculty member currently residing in Lebanon, it is important for me to develop collaborations with institutions such as LAU, especially when working on a project like Transit Game, which was shot in Lebanon and featured a largely Lebanese cast and crew," says Fahr.
Several LAU students worked on the film in various capacities, giving them hands-on experience and training alongside professionals in the field. "It was wonderful to see LAU students working side-by-side with some of the best film professionals in Lebanon," she enthuses, adding, "I believe projects such as this provide an excellent opportunity for learning outside the classroom."