LAU community and partners celebrate international education
LAU's president, faculty and students gathered with dignitaries and foreign academic partners during a week of activities to highlight the value of international academic exchanges.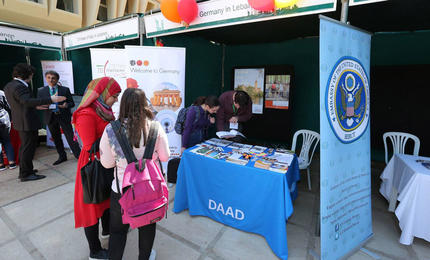 "The advances in technology have laid bare our differences and in some parts of the world resulted in bloody conflicts," said LAU President Joseph G. Jabbra, explaining the importance of international exposure for student and citizen development. "We have the obligation to provide our young people with opportunities for exposure to those differences through exchanges."
Jabbra was speaking at the inaugural session of International Education Week, an initiative organized and hosted by the Office of International Education (OIS) that works to encourage and assist students looking to spend time at a university abroad.
"The week was important in raising our students' awareness about the life changing opportunities of studying abroad and exchange," said Elise Salem, Vice President for Student Development and Enrollment Management, under which the OIS operates. "Interest is growing, as we can tell by the attendance of more students at this week's information sessions compared to last year," said Salem referring to the ten such sessions, each of which was hosted by different partner organizations and universities. Information sessions were also held for faculty members to help them better encourage and plan for their students' studies at foreign partner universities.
The OIS has secured agreements with more than 40 partners worldwide in a bid to give LAU students a wealth of opportunities. "When our students excel abroad, it proves that the education at LAU competes at an international level," said International Services Associate Program Manager Dina Abdul Rahman, alluding to the many graduates who have gone on to win high-profile scholarships and placements.
Among the students to have already benefitted from a semester abroad are political science major Carol Abdelkhalek, who won an Erasmus scholarship to study at Science Po in Paris, and business major Kevin Fadlallah who, after enjoying his time at the Salzburg Global Seminar in Austria last year, took on a second major just so he could sign up for an exchange program a second time. "I am an A student and captain of the volleyball team, but what really makes me unique is that I am an international student," said Fadlallah to an audience of LAU students gathered to hear testimonials from four of their peers who had studied abroad.
In her testimony, Abdelkhalek spoke about the challenges of spending six months in a country where she did not speak the language, but described the experience as unimaginably enriching. "The courses were amazing, taught by expert practitioners in their field," enthused the junior student. "I advise every student fortunate enough to be able to do so, to go on an exchange program."
Science Po student Nathan Michel travelled in the opposite direction, choosing to spend his year abroad―a requirement for all Science Po students―at LAU. "The Lebanese adapt to everything, and that's what makes you very attractive to foreigners," said Michel, who is learning Arabic through LAU's SINARC program.
Minister of tourism Avedis Guidanian, as well, highlighted the positive and warm image of Lebanon during his speech at the inauguration ceremony. "With our unique identity in the region through our openness and welcoming behavior, Lebanon offers an amazing space for education," said the minister. "The Lebanese educational system has been enriched by international experience and high-ranking local expertise. Why hold pride in our brain power outside Lebanon when we can show the world our capabilities by hosting them in the same institutions that make and energize that brain power."