LAU community mobilizes in support of Samer Rabah
Fundraising activities were held on both campuses to help support LAU Byblos student Samer Rabah.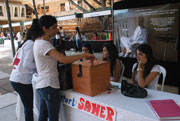 To help the Rabah family with Samer's medical expenses, students at LAU Beirut held a bazaar-inspired fundraising event.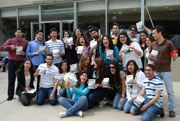 The 2nd annual rally paper winners offered their wins to the cause.
Click on any photo above for larger version.
 Several fundraising activities were recently held on both LAU campuses bringing together members of the community to help fund the medical costs incurred by Samer Rabah— a 23 year-old engineering student at LAU Byblos who was shot in the abdomen last March when two men robbed his father's pharmacy.
Rabah survived the violent attack, but suffered very serious injuries; he now needs extensive surgery and perhaps even an entire gastrointestinal transplant—a rare and complex procedure that cannot be undertaken in Lebanon.
At present, Rabah is recovering at home and is scheduled for intestinal surgery in Beirut next month. His doctors have fortunately informed him that if all goes well and there are no serious complications for at least three months, he may not need a complete intestinal transplant.
This is certainly welcome news considering that the fees associated with this surgery are exuberant (an intestinal transplant is even more costly than a heart transplant) with the family estimating that the expenses could total as much as $800,000.
To help the Rabah family raise the much-needed capital associated with his medical expenses, students at LAU Beirut held a bazaar-inspired fundraising event in collaboration with the Red Cross Society recently.
Dean of students at LAU Beirut, Dr. Raed Mohsen, says, "From a human point of view we have an obligation to help, organizing fundraisers with the help of the Red Cross is the least we can do."
Sahar Moukaddem, a communication arts student at LAU Beirut, heads the Red Cross Society. She underscores the importance of the LAU community coming together for Rabah emphatically pointing out that, "it could have happened to anyone."
She adds that those wanting to help should not be discouraged by the staggering cost of the surgery: "Yes, it is a huge amount of money, but even a small contribution can help."
The students offered local Lebanese shops an opportunity to sell their merchandise and hand-made crafts by offering to rent space on campus for $200 per table.
In conjunction to the money raised vis-à-vis the table rentals, there was also a booth for members of the community to donate money and learn about Samer Rabah's present condition.
Eleven shops participated and $3200 dollars was raised during the daylong event.
Meanwhile, at LAU Byblos, the concerted efforts of various university groups resulted in the raising of almost $11,000 to date.
A large portion of the funds came from the generous donation of the 2nd Annual Rally Paper winners who offered their $5000 win to the Samer Rabah cause. The second place and third place winners donated $1000 and $500, respectively.
Dr. Mars Semaan, dean of students at Byblos campus, explains that since LAU is a non-for-profit it cannot directly donate from its own funds; rather the university made sure to assist with the logistical and administrative components of hosting the fundraisers on school grounds.
Alan Kairouz, program coordinator at the Byblos Office of the Dean of Students, says that volunteerism is actively encouraged at LAU, arguing that "offering a helping hand" is important for the students' personal growth.
"Samer is part of the LAU family; it's important we come together to show him support."
Samer Rabah articulates this sense of familial solidarity, saying, "I was touched by the efforts of the students for me." "LAU was there for me when I really needed it," he adds.
Rabah hopes to be on his way to a full recovery and resume his studies at LAU as soon as possible.

If you would like to donate or learn more about this cause please visit: the Samer Rabah Fund for Youth Victims of Crime.