LAU conference examines toxicity in agricultural products
LAU hosts a panel of specialists to discuss the effect of poisonous pesticides and fertilizers in Lebanon's agricultural industry.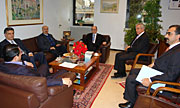 LAU President Dr. Joseph Jabbra (2nd from right) greets conference organizers and guests in his office prior to the event.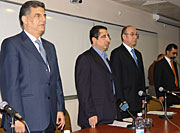 Dr. Nashat Mansour (1st from right), assistant dean of the LAU School of Arts and Sciences–Beirut and conference moderator, and key speakers stand for the national anthem. From left: Majdalani, Hajj Hassan and Hamzi.
A panel of Lebanese scientific experts convened at LAU Beirut December 14 to discuss the human health and environmental consequences of the use of toxic chemicals in agriculture in Lebanon.
The two-hour conference, dubbed "Impact of Pesticides on Agricultural Products: Reality and Solutions," also revealed the economic implications of exporting toxic-induced agricultural products.
"We have a serious problem regarding the use of pesticides and fertilizers in Lebanon," said Dr. Nashat Mansour, assistant dean of LAU's School of Arts and Sciences in Beirut and conference moderator.
Mansour explained that LAU bears a social responsibility to help create awareness and encourage action on the issue by holding such events.
The conference was organized by LAU's School of Arts and Sciences in Beirut, the Lebanese National Council for Scientific Research, and the Lebanese Association for the Advancement of Science.
"We are facing major difficulties in exporting our local products due to their high concentration of chemical pesticides," said Dr. Mouin Hamzi, NCSR secretary-general.
MP Dr. Atef Majdalani, chair of the Parliamentary Committee for Health, described the heavy use of such chemicals as a direct consequence of "anarchy" and a lack of clarity among those responsible in the government for overseeing the use of chemicals in agriculture.
"This is a joint responsibility between the government and the private sector, whereby regulation needs to be reinforced and properly followed," Majdalani said. "It needs a collective effort to be able to work hand in hand and avoid misuse of power and greedy intentions of some suppliers."
The Minister of Agriculture, Dr. Hussein Hajj Hassan, announced that the ministry would soon begin implementing a plan for controlling and monitoring the use of chemicals and pesticides, and that he will establish an awareness unit in the ministry to advise farmers on the use of toxins.
"Farmers remain a partner, but also a victim," Hajj Hassan said. The state is facing major challenges related to guidance and control, he added.
He added the ministry would push for a number of laws to be passed by the parliament concerning the use of toxins.