LAU conference pushes for female political engagement
Speakers address the importance of increased participation of women in local governance.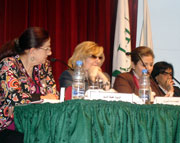 Symposiums on the participation of women in local governance were held at LAU Beirut (April 23) and Byblos (April 21). From left: Beirut event moderator Afife El-Sayed and presenters: Sana' Sirwan, Roula Al Ajouz, and Dr. Fadia Kiwan.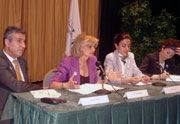 From left: Byblos symposium moderator Fadi Karam and presenters: Mirna Azar, Aline Farah, and Zeina Mezher.
Last Friday, Lebanon's first and only female municipal leader, Roula Al Ajouz, told a mostly female crowd of academics and students at LAU Beirut that, for them, "The real work begins after the elections."
She was one of the presenters at a two-day symposium about the participation of women in local governance, held at LAU's two campuses — April 21 in Byblos and April 23 in Beirut.
"For those women who don't win, they have to work hard to prepare for the next elections," she said. "For the woman who does make it, it's double jeopardy because people see her as a reflection of women, and she has to do a good job."
Both symposiums were held by the Institute for Women's Studies in the Arab World at LAU, and the National Commission for Lebanese Women, as part of the national campaign to support the participation of women in local governance, organized by NCLW, in collaboration with the Ministry of Social Affairs and other NGOs.
The events had similar programs, but different presenters: Al Ajouz (Beirut) and Aline Farah (Byblos) presented a lecture on the "Participation of Women in Local Councils (Real-Life Experiences)." Dr. Fadia Kiwan (Beirut), a professor at the Université Saint-Joseph and an expert in political participation of women, and lawyer Mirna Azar (Byblos) talked about what candidates should know about the election law, how to run for elections, and the prerogatives of the municipal council. Engineer Sana' Sirwan (Beirut) and Zeina Mezher (Byblos) discussed the "Choice of Women in Participating in Municipal Work, Specifically in Protecting Natural Resources and the Environment." A short film was also screened at both events on the role of women in engaging in local governance and protecting the environment.
Al Ajouz emphasized the importance of hard work and persistence for women in reaching their goals — whether it is as regular citizens or aspiring politicians.
"I've always been like this," she said, trying to remember the moment that brought her into the world of politics.
Al Ajouz recalled her student days at LAU, at the time called Beirut University College (BUC). The municipal leader graduated in 1989 near the end of the civil war.
Inspired to show a different side of Lebanon despite the ongoing conflict, Al Ajouz and her classmates hosted a public event called "This is BUC," where they presented works of theater, music and painting.
Their message was simple, but bold for its day: "We don't know how to fight. We are students who love life and hate war."
Some 15 years later, following the February 14, 2005 assassination of former Prime Minister Rafik Hariri, Al Ajouz put to use these same community leadership skills.
After a period of mourning, which left the normally lively streets of downtown Beirut empty, Al Ajouz felt compelled to bring the city back to life. She made 2,000 phone calls in an effort to fill the 4,000 restaurant seats of the city center. Instead, 100,000 Lebanese descended on downtown for the April 9 event, proof she said that "Beirut wasn't dead."
Always a community leader, Al Ajouz warmly greeted audience members who approached her after her presentation. One woman asked for advice about what she could do to improve her own neighborhood in Beirut. Al Ajouz suggested she could start by making improvements to her own building, which would then engage the rest of the neighborhood.
"It all started here," says Anita Nassar, IWSAW assistant director, referring to Al Ajouz's student activism. "If she didn't have the basic knowledge, she wouldn't have thought about these things."
"We want women to actively participate in society," says Nassar. "This is about finding where the flaws are in governance and law, and then researching and highlighting them — and bringing them to the attention of decision makers in Lebanon — to show that these things are wrong."