LAU design exhibit showcases students' best
The Graphic Design Department holds its annual end-of-year student exhibit.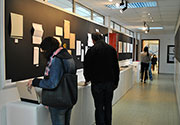 The event allows students to network with leading advertising agencies, design companies and experts in the field.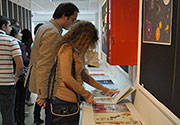 More than 15 fourth-year graphic design students presented their work this year at LAU Beirut.

Fellow colleagues visit "Hues".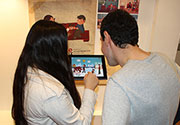 At Verve'13, Byblos students were happy to discover the creative works on display.
Click on any photo to view all four pictures.
More than 15 fourth-year graphic design students presented their senior projects at the 2013 end-of-year graphic design student exhibit entitled "Hues" on the Beirut campus last month.
"The reason we decided to call the exhibition 'Hues,'" says Randa Abdel Baki, chairperson of the Graphic Design Department, "is that the projects we showcased this year were multifarious and structurally versatile, and employed different methods of implementation, including illustration, silkscreen and binding, and animation. It's a many-hued exhibition."
Projects on display — which were the end product of design courses the students took during their senior year — ranged from interactive pop-up books and board games to refreshingly ingenious works of calligraphy and typography.
"The end-of-year student exhibit is something our students look forward to every year," says Abdel Baki. "Knowing there's a chance their projects might be exhibited pushes them to work harder, and it gives our junior students something to look forward to, as well."
But the Graphic Design Department's annual project exposition does more than merely highlight the students' dexterity and artistry. It allows them to network with leading advertising agencies, design companies, and experts in the field, thus giving them much-needed exposure to the design industry and marketplace.
Senior students Fabienne Weiszegger and Fady Awad, this year's recipients of the Graphic Design Award, had their projects showcased at the exposition.
Entitled "Lost and Not Found," Weiszegger's project is an interactive book that pays tribute to the 17,000 Lebanese citizens who went missing during the Lebanese civil war. It is divided into two separate sections: the first one comprises newspaper clippings and photographs — collected over a period of 15 years — relating to the missing people, and the second one includes quotes from the disappeared people's families and loved ones.
"In this section, there are missing words on every page. Sometimes whole sentences are missing, or the page is torn in the middle," says Weiszegger. "You're supposed to feel this palpable void while reading."
Awad's project, on the other hand, was 3D science fiction and fantasy animation entitled "Ascension." Set in 2020, the short film tells the story of a secret group that sends an agent back in time to 1944 Berlin. The agent's mission is to secure a rare and precious relic lost near the end of the Second World War, the artifact being key to achieving Ascension, the group's most sacred goal since the dawn of time.

Innovation and creativity found a fitting home at the Byblos-based graphic design senior project exhibition in January as well. Entitled "Verve'13," the four-day exposition highlighted some of the students' finest projects, which included iPad applications, animations, books, and web design endeavors.