LAU expands its community outreach programs
A new agreement sets the stage for LAU's Continuing Education Program to expand its educational mission to the Makassed Philanthropic Islamic Association of Beirut.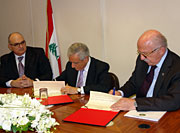 LAU President Dr. Joseph Jabbra (center) and Amin Daouk (right), president of the Makassed Philanthropic Islamic Association of Beirut, sign an agreement, based on which LAU's CEP office will offer education and training programs to Makassed. Michel Majdalani (left), CEP director, also attended the signing ceremony on March 15.
LAU's Continuing Education Program signed a memorandum of understanding with the Makassed Philanthropic Islamic Association of Beirut on March 15 to offer several education and training programs tailored to prepare Makassed students for higher education and the workforce.
CEP will provide at least four programs at the association's girls' college including an English language program with SAT preparation, a pre-school education program, an office management program, and a business management program. These programs will be open to all Makassed students, boys and girls, who have successfully completed and passed grade nine.
The agreement "goes to the heart of our mission and our commitment not only to the personal growth and maturity of people, but more importantly, the element of inclusiveness," says LAU President Dr. Joseph Jabbra. "We are here to educate, to provide youth with the opportunity to get an education that is second to none."
The agreement is the first of its kind between the two institutions.
"We are expanding the boundaries of education and that's what it's all about," says Michel Majdalani, CEP director. "Now LAU, through CEP, is reaching to new areas where we've never been before, with new objectives in mind."
In addition to the four main programs, CEP will also provide courses in arts, the humanities, business, interior design, graphic design and health, to Makassed students as well as others in the community. The courses will be reasonably priced to fit within the budgets of low-income families.
"What we're trying to do is, on the one hand, to provide a strategic arm for recruitment, and on the other, serve the underprivileged and other constituents that may find value in these types of programs," Majdalani says, explaining that the programs may serve as a stepping stone for students to pursue higher education at LAU.
Established in 1878, Makassed serves as an umbrella organization over dozens of schools throughout Lebanon, Makassed University, Makassed General Hospital, and a real estate directorate.
"LAU has developed an outreach program which is very important to us," said Amin Daouk, Makassed president, as he explained why the university was chosen as its partner. "The vision and the mission of LAU describe exactly what we need as a community in terms of education services."