LAU faculty and students join the fight against TB
On World Tuberculosis Day, we review the initiatives of LAU faculty and students in the fight against the highly contagious bacterial disease.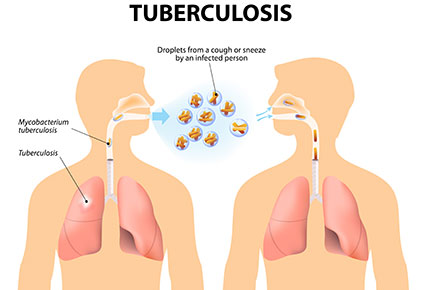 "It is a killing disease. It kills millions worldwide every year," says LAU School of Pharmacy's Clinical Assistant Professor Dr. Hanine Mansour of tuberculosis (TB), a disease which infects one new person every second. While Brazil, Russia, India, China and South Africa — known as the BRICS countries — witness the most infections, "we see more cases now in Lebanon because of the Syrians being displaced and the increase in refugee numbers."
Today marks World Tuberculosis Day, which, says the World Health Organization, provides an opportunity to raise awareness about the burden of the disease worldwide and the status of TB prevention and control efforts. While some figures are encouraging — 37 million lives were saved through effective diagnosis and treatment of TB between 2000 and 2013 — others are not.
Multidrug-resistant TB (MDR-TB) was first detected in the 1990s. In 2013 alone, 480,000 people developed the disease. "The standard treatment for TB used to be a combination of four medications that would see the patient heal, but lately we've been seeing a lot of resistance to the common standard treatment," explains Mansour. Together with fellow LAU professor Dr. Lamis Karaoui and Dr. Elias Chahine from Palm Beach Atlantic University, she recently reviewed Bedaquilin, a new medication developed to combat MDR-TB.
"Bedaquiline is a second-line medication used as part of a multi-drug treatment on patients with MDR-TB," says Karaoui. As to why they chose to review Bedaquiline, Mansour explains that "we saw an urgency in informing people about the drug. It's been 40 years since an anti-TB drug has been developed and there was a need for a review that looked through all the available test data and presented a paper accessible to busy medical clinicians and faculty like ourselves."
It is too early to know how many lives Bedaquiline will save, and, as the review notes, the drug has some serious side effects, including increased unexplained high mortality and heart arrhythmia. "The drug was approved by the FDA as an orphan drug — one that requires permission to be used in only unique cases. We concluded that it has great potential and recommend further trials to elaborate on the efficacy and safety of the medication," notes Karaoui. At the same time, the pharmacists are not hopeful that these trials will manifest, as one treatment of Bedaquiline costs $34,000 while TB is not one of the major diseases affecting North America and Europe, where research grants are most easily available.
Mansour is now collaborating with a clinician from a hospital in Qatar to compare the safety and efficacy of a one tablet combination to separate tablets regimens. Meanwhile, LAU pharmacy students have also been involved in an initiative to assist in the prevention and treatment of the highly contagious airborne disease. As part of their rotation with the Ministry of Public Health, they have collaborated with its director of public relations and health education Dr. Rasha Hamra — herself an LAU graduate — in the development of a medication pamphlet for TB patients, as part of the National Tuberculosis Program.