LAU faculty member launches 'visionary' business magazine
Dr. Hussein Ismail's monthly publication aspires to help young graduates and business community members by offering profiles on leaders and tips for success.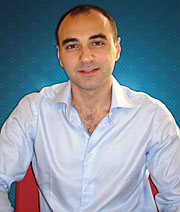 Dr. Hussein Ismail has a bachelor's degree in management economics from LAU (2000), a master's in strategic management from Nottingham University, and a Ph.D. in human resources development and management from Manchester University.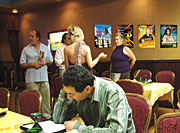 Why Not! Magazine opening event in San Diego, California.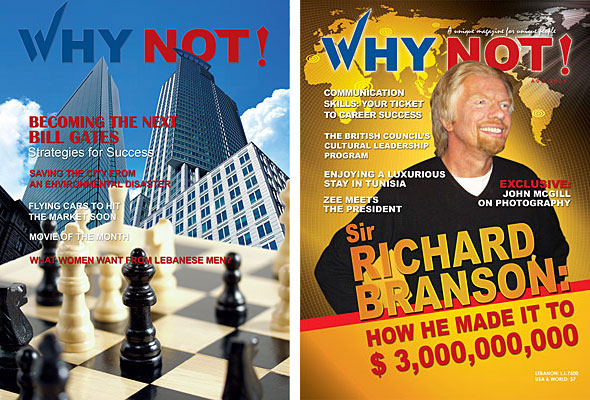 Covers of recent issues of Why Not!
Click on any photo above to view all three images
For entrepreneurial students graduating with dreams of starting their own businesses, it might be a frightening time to enter the market amid a global economic crisis, but at least some can find comfort in Why Not! Magazine, a monthly publication launched in June, that is dedicated to helping tomorrow's leaders succeed.

"This magazine acts as a consultant," says Dr. Hussein Ismail, an LAU School of Business faculty member, who is the founder and chief editor of Why Not! "Many [students] from today's generation want to graduate and open a business, so the magazine talks about how to go about that, how to succeed, and how to be a good leader."

He says that while the magazine is based in Beirut, its stories are not specific to Lebanon or the Middle East and can be appreciated across the globe.

Why Not! features articles from a diverse group of writers from the United States that includes professors, researchers and other specialists — some of whom have held executive positions at large companies in the country.

The business articles are primarily focused on management skills and business performance; economic news and analysis; career development; and entrepreneurship and small business management.

The magazine has also sections that are not directly related to business. A section called "Sweet Harmony," authored by psychologist Dr. Stacie Cooper, an experienced counselor and member of several physiology associations, offers advice on how to improve interpersonal relations.

Articles from other sections deal with health, entertainment, and technology, while each issue also features a short story written by renowned novelist Amira El Assaly.

In spring 2009 Ismail began teaching management courses at LAU, which he says contributed to his decision to launch the 48-page publication.

"Given my interaction with students in my role as a lecturer, I came to realize that we actually need such a magazine to enlighten our young graduates," he says. "It's a magazine that can inspire people — that businesses and people can refer to for any business needs."

The key challenge Ismail identifies for the magazine is being able to cover the costs. The publication's revenue is drawn from advertising and subscriptions.

"It's about survival," he says. "There are big expenses involved: covering writers' pay, publication, office expenses. For any new business, the first few months are absolutely critical."

In August 2009, Why Not! held an opening event in San Diego, California, where the publication maintains an office. It was attended by members of the business community to promote the magazine. Ismail says he is planning a similar event in Lebanon sometime in the near future.