LAU festival signifies big leap for Lebanon's dance community
LAU Byblos turns into a dancer's paradise during a weeklong festival organized to mark World Dance Day.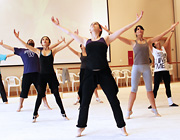 Dancers from around Lebanon participate in a modern dance session at the Frem Civic Center, LAU Byblos, as part of the World Dance Day Festival.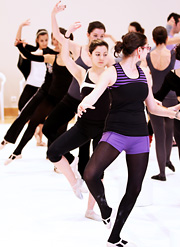 Amateur dancers practice their ballet skills during a workshop.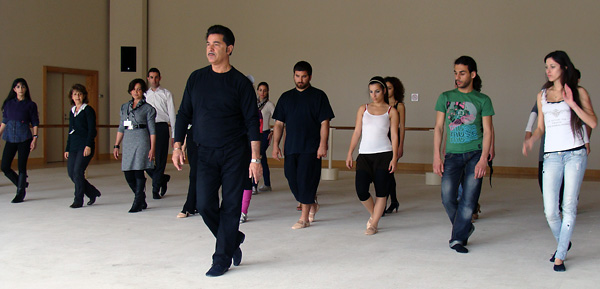 Famous Lebanese dancer Khanito (middle) teaches rumba moves to festival participants.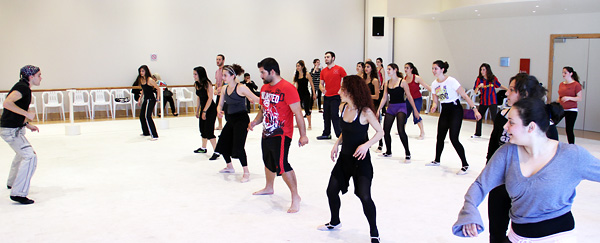 Students participate in a free dance workshop.
Click on any photo above to view all four images.
Dancers from Lebanon and around the globe took center stage at LAU Byblos during the World Dance Day Festival held on April 4-9.
To kick off the weeklong festival, a troupe of university-aged dancers, clad in white flowing tops, moved rhythmically across the stage in the Selina Korban Auditorium in a modern dance.
"I'm thankful to be part of an institution that allows creativity to happen," said Dr. Nadra Assaf, instructor of English and dance in the School of Arts and Sciences at LAU Byblos, after the first performance.
"This festival is the first of its kind in the history of dance in Lebanon," she added.
LAU Provost Dr. Abdallah Sfeir welcomed the audience, commending the role of dance in a university setting.
"Creativity has to be expressed in more than just a purely academic way," he said. "Dance keeps the flame of liberal arts living at LAU and fits perfectly with the university's 'whole person' initiative."
Assaf outlined three main objectives of the festival: to allow the Lebanese dance community members to get to know one another, to offer free classes and workshops from foreign and Lebanese instructors, and to give aspiring artists a platform through which to get feedback.
Hundreds of amateur and professional dancers from LAU and around the country took advantage of classes spanning a range of dance genres, including rumba, break-dance, dabke, salsa, modern dance, hip-hop and ballet.
Workshops included "The 20th Century: A Century for Women in Dance," "Nutrition for Dancers," "Physical Therapy for Dancers," and "Choreography to Express Identity."
Assaf began organizing the festival 18 months ago with World Dance Day, a UNESCO initiative, in mind. The day is celebrated internationally on April 29.
For Assaf, the festival has been a true labor of love, born out of what she sees as a real need to elevate the place of dance in Lebanese society.
"This isn't for me or my ego — it's for my community," says Assaf, who teaches the only dance course currently available at LAU and also owns her own private, government-licensed dance company.
"We have to get to know each other and put our hands together if we really want dance to go forward," she adds. "Dance is an important part of any society for many reasons. Most importantly, it gives the youth something to do other than smoke, drink and party."
Joumana Souaid, 19, an economics major at LAU Byblos, has been dancing for 13 years and thinks the festival was an amazing opportunity for self-expression. "I don't think dance is encouraged in Lebanon, so this festival is a way for dancers to develop skills and meet each other," she says.
To celebrate a week of fun and hard work, the festival ended with a dance performance and award ceremony at Patriarch Al-Howayek Theater at Mar Youssef School in Byblos on April 9.
LAU President Dr. Joseph G. Jabbra told the audience during the closing event: "We need to make art an integral part of our cultural history … The goal [of this festival] was to raise awareness about dancing and to convince governments of the importance of the introduction of dance in curriculums."
The feedback from festival instructors and participants has been overwhelmingly positive, according to Assaf, and she has been given the blessing to make it an annual event.
The festival was sponsored by the Department of Humanities and Social Sciences at the LAU Byblos School of Arts and Sciences, in cooperation with the Municipality of Byblos, and Dancewear, one of the largest distributors of dance clothing and equipment in Lebanon.