LAU film graduate reaches Cannes
Elie Rizk, a 2010 communication arts graduate, screens his short film, The Examination, at the Cannes Film Festival.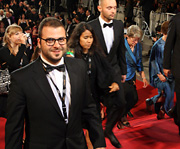 LAU graduate Elie Rizk at the Cannes Film Festival.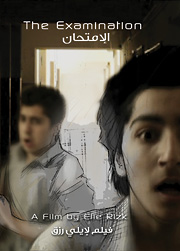 Rizk screened his film, The Examination, under the category of "Short Film Corner" at Cannes.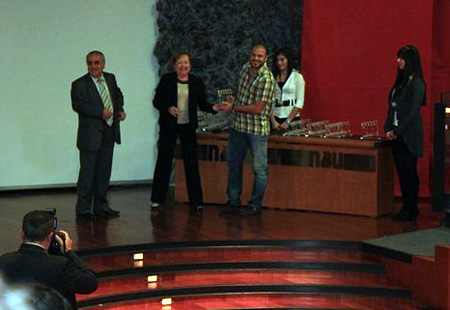 Rizk receiving a prize at the NDU Film Festival in Lebanon last year.
Click on any photo above to view all three images.
A 2010 LAU communication arts (film emphasis) graduate, Elie Rizk, recently returned from the 2011 Cannes Film Festival in France where he screened his short film, The Examination (2010), before an audience of producers, distributors and movie enthusiasts in May.
Rizk's 12-minute film was screened under the category of "Short Film Corner." It was not a competition, he says, but rather an opportunity to rub shoulders with prominent figures in the film industry.
"You wouldn't believe what happens in Cannes," Rizk says. "For 10 days, you think you are dreaming. You get on the plane, land, then go to the festival and the first person you run into is Robert De Niro."
While in Cannes, Rizk had the chance to attend lectures and workshops about film production, including one led by British actor Malcolm McDowell who played in A Clockwork Orange.
Rizk's film is about two grade-school students who stay at school after class one Friday afternoon and plot to steal an exam. A simple story, Rizk says, but with a very artistic touch.
The two main characters in the movie locate the exam and scramble to photocopy it before anyone catches on. Suddenly, someone opens the door of the copy room and the worst fears of the panicked students begin to cloud their imaginations.
One student imagines they had just gotten busted by the school principal. The film makes viewers believe the scene is reality when in fact they are merely witnessing a manifestation of the boy's paranoia. That scene ends and the camera then captures the imagination of the other student, who plays out a scenario that involves his teacher entering the copy room.
Most viewers can identify with one of the two kids, Rizk says. "If they didn't steal an exam when they were in school, they tried to, or at least wanted to."
The Examination was previously screened at the Notre Dame University Film Festival (where Rizk won a prize), Nadi Lekol El Nass, Ehdeniyat festival, FICMÉC festival (organized by Université Saint-Joseph), and the European Film Festival — all held in Lebanon.
Rizk says the film took about eight months to complete, including five months of pre-production preparation, three days of shooting, and over two months of post-production work.
He says the film's success would not have been possible without the dedicated efforts of his production team, which he handpicked after reviewing previous movies they worked on.
"At the end of the day, it's the work of the team that counts. The music played a very important part of the movie. The art director did a great job with decor," he says. "They all understood the mood of the movie."