LAU fine arts students exhibit their graduation works
The annual fine arts exhibit featured paintings, drawings, sculptures and ceramics by LAU students.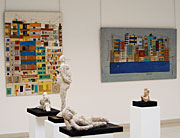 Fine arts graduating student Fatima Sayegh's "Tyre" series and the sculptures of other current fine arts students.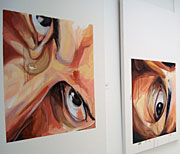 Fine arts student Georges Tarabeih's four self-portraits exhibited in Sheikh Zayed Hall, Beirut campus.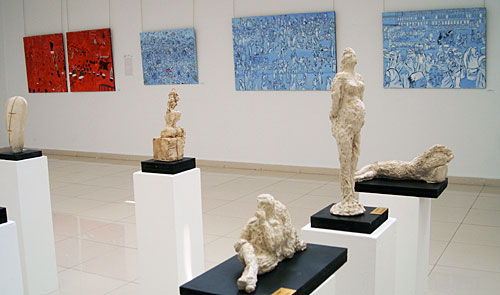 Fine arts student Layla Mossallem's "Inspiration Study" series in the background.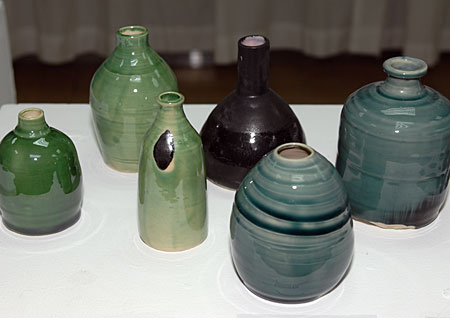 Works of students who take ceramics as an elective course were also displayed at the fine arts exhibit.

Click on any photo above to view all four images
Fine arts student Layla Mossallem says finding inspiration can be a struggle for most artists, but she is satisfied she found her own style while studying at LAU.

She explained it all in a candid letter which described her art and accompanied her exhibited paintings at the LAU Student Art Exhibit — an annual event in the university's Fine Arts Program — that was held June 10–16 in Sheikh Zayed Hall, Fine Arts Building, Beirut campus.

Mossallem is one of only four students graduating this year from the Fine Arts Program. Mossallem, as well as Fatima Sayegh, Tania Semaan and Georges Tarabeih, all have specialized in painting.

The exhibit also featured the best drawing, sculpture and ceramic works of other current students in the program.

"We have very talented students. There aren't many students in the Fine Arts Program, but our disciples are really passionate and very promising artists," says Dr. Chaouki Chamoun, coordinator of the program.

Sayegh says she came to LAU to study graphic design, but Chamoun saw the artist in her and encouraged her to pursue a fine arts degree.

"It took me a long time to find my own style. I started working on images, then with color, and I searched forms — and I ended up with this," says Sayegh, looking at her "Tyre" series. "Tyre is my hometown, and when you're exploring, you have to start with what is familiar to you," she explains.

"During my senior year I was challenged by Dr. Chamoun to get out of my comfort zone and explore new horizons. This is how I turned to pop art," adds Mossallem.

Chamoun says he is proud of the students he has guided during his 11 years at LAU. "I always tell them to find their own style — not imitate," he says. "We are not re-inventing art, we are adding to it."

"There are many successful artists in the world. The market is worth millions of dollars. If you work hard, if you know how to protect your art and protect yourself, and you put yourself into it, you will make it," Chamoun says.

"You have to think competitive, to think excellence, to make a difference in life," he adds. "Not everybody who studies science becomes an Einstein, but the difference is in how much of yourself you put in it."