LAU forum analyzes challenges and trends in human resource management
Practitioners of HR management gather at LAU to discuss experiences and trends, and prepare students for a career in the complex and ever-evolving field.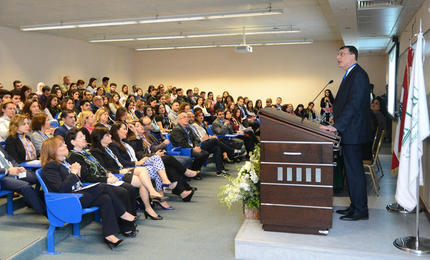 A forum hosted yesterday by the Department of Management Studies at the Adnan Kassar School of Business (AKSOB) brought together students and practitioners of human resource management to learn about historical practices, current trends and future needs.
"The workplace has witnessed rapid changes due to globalization, population growth, shifting demographics and technology," said Department Chair and Associate Professor Silva Karkoulian. "These all impact the workforce and the workplace."
AKSOB Interim Dean Said Ladki concurred: "Organizations need business leaders who will innovate and transform. They are always looking for value adding corporate citizens." Such people, added Ladki, are not only technically competent, but have a range of skills including the ability to see the bigger picture, to listen well and to express their views with confidence.
Ladki took the opportunity to announce that the school had been, the previous day, officially initiated into the prestigious Beta Gamma Sigma honor society. Fewer than 4 percent of the world's business schools are members. "This opens up doors for our students."
According to Rana Ghandour Salhab, partner at Deloitte & Touche, LAU students are already sought after by talent scouts. "I know I'm getting a peek into the future here … I see a future CEO of a multinational, a board member … I know this is the generation that's going to take this region to the next level," enthused Salhab. "We have great aspirations for you and it's my generation's job to make it easier for you," said the talent recruitment specialist.
Salhab went on to present a detailed overview of the status of HR management in the region and global trends in the field. "The world has entered the fourth industrial revolution, but we in the region are, at best, still using the tools from the second industrial revolution." This was not the only gap impacting productivity of companies in the Middle East," she added. "Youth are tech savvy, but businesses not as much … and lagging even further behind in public policy."
Echoing Salhab's advice to students to be prepared to work hard and long hours during the early years of their career was Assistant General Manager at BLOM BANK, Pierre Abou Ezze. "If you don't work hard. If you whine about your work life balance, at best you'll be on the table, not at the table," said Abou Ezze, who is also on the Bank's board of directors. "You have to be a contributor to the bottom line and look at the business's interest first, not the people's interest."
As far as LAU is concerned, the interests of the business and its people are intertwined, explained Vice President for Human Resources & University Services Roy Majdalani. "At LAU, our customers are our students and our staff and faculty are here to serve students. With happier staff and faculty, we can retain more students," he said, explaining that satisfied employees produce more and, thus, drive up profitability and customer ratings.
The university strives to ensure employee satisfaction by boosting their engagement, which according to surveys is found among only 13 percent of employees worldwide. "Engagement ensures loyalty and retention, and these are our top priorities at LAU," explained Majdalani, adding that a survey of employees showed that relationships with colleagues, opportunities to use skills and abilities, and the meaningfulness of one's job were among the top factors impacting employee engagement.
One of the strongest methods of increasing engagement and performance, according to Head of Talent Management & Training at BankMed Roula Ejjeh, is team building. "Hierarchies do not make synergies. Organizations need to build cross-functional teams," she explained. Working in the field of human resources has been most rewarding for Ejjeh, but it is a difficult job that requires multi-functionalism and flexibility. "As an HR manager you have to be aware of constant changes and unpredictable events that impact your people, including war and global economic struggles," she advised the students in attendance. "To be an effective HR manager, you need to be a psychologist, coach, consultant, and strategist. You need to be a global leader."