LAU furthers engagement in promotion and study of entrepreneurship
UK Lebanon Tech Hub chooses LAU as its partner for 2017 entrepreneurial study, and presents 2016 findings in Beirut to students and faculty of business school.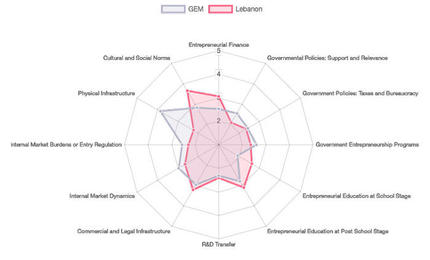 The Adnan Kassar School of Business will this year partner with UK Lebanon Tech Hub to produce the 2017 edition of the Global Entrepreneurship Monitor (GEM) national report on Lebanon.
UK Lebanon Tech Hub, an international initiative kick-started by Banque Du Liban and the U.K. government, produced the 2015 and 2016 editions of the report, and presented a summary of the findings contained in the latter to an audience of faculty and students of the business school in Beirut last week.
"This is the beginning of a great alliance between two institutions of giants who are interested in public welfare," said Said Ladki, dean of the Adnan Kassar School of Business as he welcomed the guests, among them Former Minister of Telecommunications Nicolas Sehnaoui. "We are excited to be part of this initiative," enthused the dean, before thanking Assistant Professor of Management Studies Wassim AlHussaini for championing it.
"We are AACSB accredited, and one of the largest business schools locally and among the elite top five percent globally," said AlHussaini when asked why he thought LAU's business school was chosen as partner by tech hub. Director of its international research center Elie Akhrass concurred, and spoke enthusiastically about the value of the GEM report. "Many in Lebanon complain about the lack of data. So this compilation, based on thousands of surveys and interviews, is very valuable."
The 2016 report, distributed and discussed at the event, goes into the details of Lebanon's entrepreneurial ecosystem. As project partners, LAU's 68 full-time and 60 part-time faculty members will benefit from access to the source data on which the report is based, said AlHussaini. "This will provide huge opportunities for our many professors working on quality research," he added.
Raya Ghaith, an attendee from Jordan, also saw an opportunity to learn from the report and its authors, and travelled to Lebanon especially for the event. "I was looking through the LAU website to register for entrepreneurship courses when I came across this event and decided without hesitation to come," said the recent graduate. "Legislation in my country is a barrier to entrepreneurship, and I wanted to learn how the Lebanese overcome similar obstacles," added Ghaith, who is intent on starting her own business soon.
Indeed, the report found government policy to be one of the barriers to entrepreneurship in Lebanon, as was physical infrastructure. The country does however fair better than the global average in cultural and social norms, commercial and legal infrastructure, entrepreneurial finance and tertiary entrepreneurial education, which may explain why, based on the adult population survey conducted, Lebanon ranks eighth globally in terms of early startup entrepreneurial activity.