LAU grad garners praise for publishing captivating short novel
Alexandra Chreiteh, 21, recently published Always Coca-Cola, a 94-page novel that tells the story of three women from different cultures living in Beirut.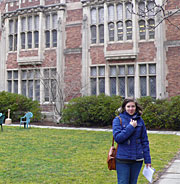 LAU graduate Alexandra Chreiteh in April during a visit to Yale University, where she is planning to pursue her Ph.D. in comparative literature.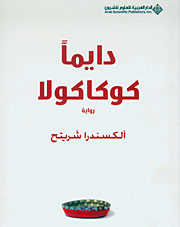 The cover of Chreiteh's book.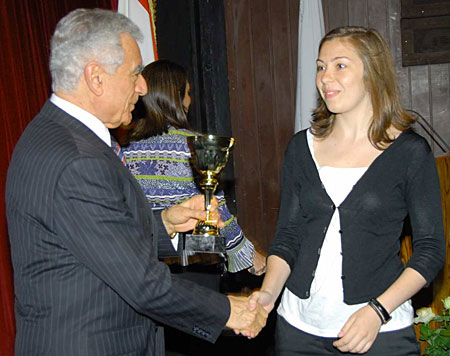 LAU President Joseph Jabbra grants the Rhoda Orme Award to Chreiteh at the Beirut-campus Student Honor Society ceremony.
Click on any photo above to view all three images
A review in Al-Jarida says that reading it is like getting an "electric shock."

Another critic from Al-Mustaqbal warns that the problems of its characters reflect social anomalies in Lebanon that cannot be ignored.

But when asked to identify and elaborate on the symbolism tucked in her 94-page Arabic novel that tells the story of three women from different cultures living in Beirut, author Alexandra Chreiteh simply shrugs her shoulders and smiles, insisting that she was merely trying to excite readers.

"I didn't think of significance when I was writing it," says Chreiteh, a 21-year-old LAU graduate who completed her B.A. in English literature this year. "I just wanted it to be an interesting story — one that you wouldn't stop reading."

The book, titled Always Coca-Cola, focuses on a character named Yana, a Romanian in her mid-twenties who moves to Lebanon and quickly finds work as an advertising model.

Yana becomes romantically involved with the director of a Coca-Cola factory after starring in one of the soda company's ads. After impregnating her, the director forces Yana to choose between having an abortion and ending the relationship.

The story is narrated by Abir, an LAU student from a traditional Lebanese family who struggles as she tries to escape the bounds of a conservative society.

Abir attempts to conceal her obsession with Yana, whose picture she finds gazing down at her each morning from a Coca-Cola billboard just outside her bedroom window.

The third character in the book is Yasmin, a half German, half Lebanese boxer who is close to Abir.

As rumors circulate that Yasmin may be a lesbian (although she is not), Abir begins to distance herself from her friend, fearing that others may begin to question her sexuality as well.

The plot only thickens as the characters become increasingly entangled in a complex series of events marked by secrecy, jealousy and shame.

"I think it's a good thing if a book makes you feel uneasy in some kind of way," Chreiteh says, lending credence to the suggestion that the novel causes readers to react to social dilemmas everyone knows exist, but no one wants to talk about.

"I think the story reflects a lot of what is going on in Beirut," she adds. "When I was trying to come up with the characters, I wasn't trying to write something extraordinary — it's just people you see every day."

Chreiteh began writing the novel during her junior year at LAU. It started off as a short story assignment for a course of creative writing in Arabic, but a year and a half later, she discovered three publishers who bid for a contract to print her book.

She says the novel, which was published in May, helped her get admitted to Yale University, where she will start her Ph.D. in comparative literature in the fall. The university has granted her a fellowship to cover tuition costs plus extra funding for living expenses.

Chreiteh also received the distinguished Rhoda Orme Award at LAU's Student Honor Society Ceremony last month — an award traditionally given to female students for their outstanding spirit and services at LAU.

The characters of the book may have been inspired by Chreiteh's own life growing up with a Russian mother and Lebanese father in one of Lebanon's most religiously conservative regions.

She scoffs when asked to name the town where she was raised, lamenting that the question is often used to form judgments and make assumptions about her religious and political affiliations.

Without spoiling the ending for any curious readers interested in picking up a copy, Chreiteh explains that the book concludes with Yana making some difficult choices that will forever impact her life and the lives of the other characters.

"The readers can interpret the book in any way they want," Chreiteh says. "If the readers want to give it some kind of grandiose purpose, they can. But if they don't, then that's fine too."