LAU graduate receives recognition in the U.S. for cancer research
Hussein Abbas has been involved in a promising study of blood stem cells and leukemia at the M.D. Anderson Cancer Center in Texas.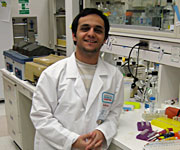 Hussein Abbas in a research lab at The University of Texas M.D. Anderson Cancer Center.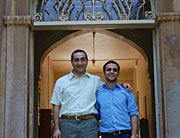 Abbas with his mentor, Dr. Ahmad Houri, LAU associate professor of chemistry, in front of Sage Hall, Beirut campus.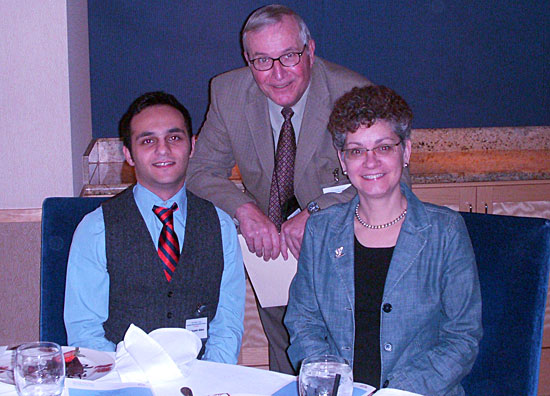 At the luncheon where he received the award, Abbas with Dr. George Stancel (center), dean of The University of Texas Graduate School of Biomedical Sciences at Houston, and Dr. Guillermina Lozano, chair of the Department of Genetics.

Click on any photo above to view all three images
LAU graduate Hussein Abbas received an award last month for his research on leukemia, or cancer of the blood, by The University of Texas Graduate School of Biomedical Sciences at Houston, where he's pursuing his Ph.D.

Abbas's research has focused on understanding the abnormally high multiplication rate of blood cells that leads to leukemia. According to him, his study may help in developing preventive or curative methods to fight the disease.

Abbas's passion for the biomedical sciences started in 2003, his first year at LAU. Taking biology classes "I learned much more about the natural world, and was especially drawn to the study of human disease," he wrote in a University of Texas student newsletter.

Alongside his studies, Abbas was also involved in volunteer activities. In 2005, he co-founded Toufoula, an NGO that recruits young people to volunteer at cancer hospitals.

One of the main projects of the organization, in which Abbas is still involved, has been to provide children with colorful and comfortable "dream rooms" during hospitalization. The "idea was inspired by the fact that not all cancer wards are well organized, and patients have to endure arduous days of treatment surrounded only by white walls," Abbas explained.

The experience with Toufoula "helped me understand that I wanted to contribute to patients suffering from cancer both socially and scientifically," Abbas wrote in the newsletter.

According to Abbas, working with Dr. Ahmad Houri, his organic chemistry professor at LAU, as a lab assistant provided him with "a good foundation of scientific knowledge and reasoning skills." For example, he was involved in analyzing river waters across Lebanon, and presented the findings at a conference in China in 2005.

"Although our research was not related to cancer, I was able to develop as a researcher and broaden my horizons," Abbas wrote.

Abbas "was doing way above and beyond what was required of him," Houri said. Impressed by his student's devotion to work and skills as an "independent worker," Houri helped him to apply to graduate programs, including The University of Texas M.D. Anderson Cancer Center, which Abbas calls his "dream school."

Abbas was accepted at M.D. Anderson. Getting to the U.S., however, proved to be full of obstacles as the July 2006 war erupted, and Abbas and his family fled their home in southern Beirut, which was under constant bombardment.
To get the visa, he risked his life to go back to his home to retrieve papers. He also traveled—in vain—an unsafe road to Syria (where he was told the processing of his visa application had been transferred). He finally got the visa a day before his extended school admission deadline.

At his new university, he's been studying the role of a gene called p53, which regulates hematopoietic stem cells that are responsible for the replenishment of the blood. "More than 50% of cancers alter the p53 gene or pathways," Abbas explained, adding that an increased understanding of this gene may be "an avenue to shed light on its importance in leukemia initiation."

His persistence and hard work were rewarded on February 5 with the 2008–2009 Floyd Haar, M.D., Endowed Memorial Research Award.

Abbas hasn't decided yet on his plans after he graduates. Going to a medical school, or working in the U.S. or Lebanon, are among his options. Houri said he'd "love to have him as a colleague because his work is of such high caliber."

Abbas is sure he wants to return to his homeland one day, and help build Toufoula's "Dream Center," envisioned as a facility that will provide treatment and entertainment to cancer patients, and promote research.