LAU graduates make up majority of Lebanon's 2014 Fulbrighters
Six out of ten Lebanese Fulbright Scholarship recipients this year are LAU graduates.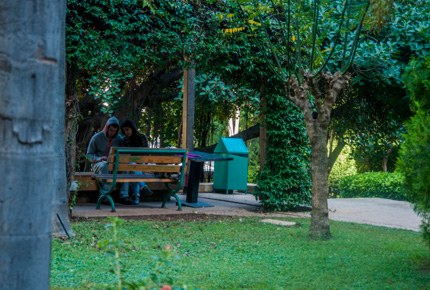 LAU students demonstrated singular achievement in the Fulbright program as six of the ten scholarships for 2014-2015 were recently awarded to LAU graduates.
The Fulbright Foreign Student Program is a prestigious scholarship that enables graduate students, young professionals and artists from countries across the world to study and conduct research in the U.S. It operates in more than 155 countries worldwide. Approximately 4,000 foreign students receive Fulbright scholarships each year. In Lebanon, the program annually selects ten applicants.
"LAU has already been doing really well in the last few years, getting about 30-40 percent of Fulbright scholarships in Lebanon. To get six this year is amazing, because the competition is so intense," says Dr. Elise Salem, vice president for Student Affairs, adding, "Those selected will be going to great universities, like Williams, Johns Hopkins and Yale."
According to Salem, the recipients were all involved in civic outreach and academically excellent. "This is a remarkable achievement and a tribute to the work that LAU has been doing. The U.S. embassy is very impressed with the caliber of our students and the way they present themselves," she enthuses.
The university's Outreach and Civic Engagement unit has actively promoted these scholarships and hosted several U.S. embassy speakers on the topic in both Beirut and Byblos.
The OCE office's Study Abroad Lead Coordinator, Dina Abdel Rahman, explains, "We have noticed that most of the LAU candidates chosen were involved in OCE's extra-curricular activities during their academic years. The program looks for a combination of academic excellence and leadership skills and our leadership programs expose our students to intensive training in that field."
One of this year's scholarship awardees is 21 years old Layane El Hor, a spring 2014 B.S. in Economics graduate. She also received the Riad Nassar Leadership Award at LAU Beirut and is the founder of the Economics Club there. El Hor is currently pursuing an M.A. in International and Development Economics at Yale University. She credits LAU's rigorous academic preparation and leadership programs for her success. "While many of my classmates received their undergraduate degree from universities like Oxford, the London School of Economics, University College London, New York University, Harvard and University of California at Berkeley, I am the only student in my cohort, not only from Lebanon but also from the Middle East," she notes.
"The other LAU scholarship recipients and I are the youngest among Lebanese Fulbrighters this year. Why? I would say that while most applicants have to demonstrate relevant work experience, we were able to show our engagement through the social and civic programs we had participated in at LAU. In addition, most LAU students are well exposed to public speaking events and interacting with a variety of people, which helped out tremendously during the interview process," El Hor points out.
As well as being an exchange student at Sciences Po in Paris, El Hor was extremely active in many OCE activities. She participated in GC LAU Model UN training, LAU Model Arab League, the Leadership and Constitutional Education Academy, as well as the Moderation and Justice Academy for Leaders.
"During my participation in the Harvard World Model UN in Belgium, I remember really looking up to students from Harvard, Yale and Princeton. Today, only half a year later, I am one of them," says El Hor.