LAU graduates plant seeds of hope
Over 550 graduates participate in the Plant Your Class Tree initiative, generating $5,600 towards scholarships.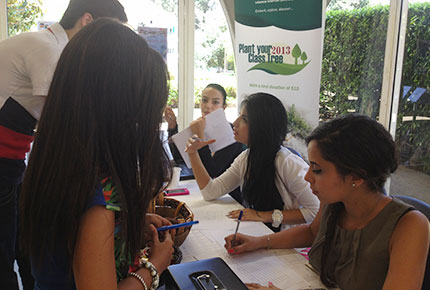 For the second consecutive year, graduating students have shown that the roots of their relationship with LAU run deep.
As the academic year drew to a close, LAU's Development Office invited outgoing students to make small donations to commemorate their graduating year with olive trees.
In what is becoming an annual commencement tradition known as Plant Your Class Tree, students can pledge a minimum of $10. The money will not only see two trees planted at the Beirut and Byblos campuses, but will also go towards LAU's financial aid packages for needy and deserving students. In the spirit of the words of American poet Lucy Larcom, "he who plants a tree plants hope," some 559 graduates responded to the appeal, generating over $5,600.
"It is energizing to see so many students respond charitably to the call to give back to their alma mater," said Lana Abou Teen, associate director of Development. "They have demonstrated that even small donations can have a transformative effect — not only on the physical landscape of LAU but also on the lives of other students."
LAU is committed to providing equal opportunities in higher education. Some 2,930 out of 8,138 students, or roughly 36 percent of the student body, received some form of scholarship or other financial assistance from the university during the 2011-2012 academic year.
In addition, LAU's financial aid budget has increased from $15 million last year to $18.8 million this academic year.
For business graduate Ghida Ladki, donating was an obvious choice. "It was a simple way to help needy students receive the same opportunities I had at LAU, and a first gesture as an LAU alumnus," she said.
Abdallah Al Khal, executive director of Alumni Relations, thanked the Class of 2013 for their generosity. "The Plant Your Class Tree project offers graduating students not only a chance to leave a physical reminder of their time at LAU, but also a simple way to support future generations of students," he said.
Reminding the graduating class of 2013 that they would always remain a part of the LAU family, Khal urged students to stay in touch by joining one of the university's alumni chapters. With over 33,000 alumni, LAU has active chapters across the world, including major cities like New York, Montreal, London, Dubai, and Geneva.