LAU hosts 15th International University Theatre Festival
Theater enthusiasts converge on the Beirut campus to celebrate LAU's International University Theater Festival.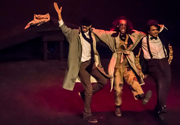 A moment from The Lower Depths, performed by the University of Tunis.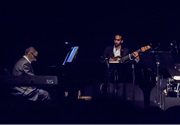 Lebanese composer and performer Ziad Rahbani, and his musical troupe perform on the opening night.
Click on any photo to view larger version.
More than 130 young thespians from Turkey, Tunisia, Egypt and Lebanon converged at LAU Beirut to take part in the 15th International University Theatre Festival. The festival's opening night featured a memorable performance by Lebanese musician and composer Ziad Rahbani, accompanied by his musical troupe.
Organized by the Communication Arts Department on June 19-23, the annual five-day festival aims to provide a dramaturgic platform for communication arts and performing arts students to share their thoughts on theater production in a creative and academic setting.
This year's festival featured a total of 12 student theater productions, acted and directed entirely by university students. LAU students were also responsible for technical tasks crucial to the staging of the productions, including set construction and management, lighting and sound-checking.
"This festival wouldn't be what it is without all the hard work and dedication our students put into it," says Dr. Mona Knio, associate professor of theater and chairperson of the Communication Arts Department. "We owe its success to their devotion and determination."
This year's theatrical performances ranged from expressionism and absurdity to modernism and naturalism, and included a highly applauded outdoor reprise of William Shakespeare's "Romeo and Juliet."
"The actors used buildings, stairs, walkways, trees and benches for the setting," said LAU student Maya Anbar Aghasi. "The campus itself was the stage, and passers-by were inadvertently transformed into spectators, and became part of the performance."
Firas BouZeineddine, director of the festival's inaugural production "Mr. President," says the audience's reaction to the play was unexpectedly heartening. "We got a completely different reaction this time than the first time we staged it back in January," he explains. "We only had two weeks to prepare, so it was quite stressful, but the audience's feedback was very redeeming."
Though language was an occasional barrier for non-Arabic speakers, LAU theater coordinator Hala Masri says it was a beautifully surmounted hurdle. "The good thing about theater is that — much like music — it transcends language. It's about body language and facial expressions and voice tonality," she noted. "And most of all, it's about the chemistry between the actors on stage and the audience, which was palpable throughout the majority of the performances."
At the festival's opening ceremony, Interim Dean of the School of Arts and Sciences Dr. Nashat Mansour said, "Art and theater humanize us and band us together. We must never undermine their healing power, especially during the stringent times our region is going through."
This year's participants came from various universities, including the Higher Institute for the Performing Arts (Tunisia), the Academy of Arts Higher Institute for the Performing Arts (Egypt), Al Mansoura University (Egypt), Yeditepe University (Turkey), Beirut Arab University (Lebanon), and LAU (Lebanon).