Telecom tech summit
LAU hosts IEEE Lebanon Communications Workshop 2011, bringing together experts from Lebanon and Europe to discuss telecommunications emergency management and crisis recovery.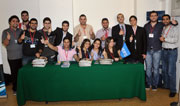 LAU volunteers who have helped organizing the event celebrate its success.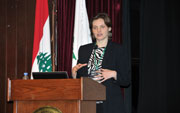 Dr. Irina Shklovski, faculty member at the IT University of Copenhagen, Denmark, speaking at the workshop.
Click on any photo above to view the two images.
More than 200 participants convened at LAU Beirut to take part in the fifth IEEE Lebanon Communications Workshop, organized on November 12 by the IEEE Communications Society Lebanon chapter.
Dr. Sanaa Sharafeddine, assistant professor at the Department of Computer Science and Mathematics and general co-chair of the event, attributes the high attendance to the caliber of the technical program that addressed diverse topics with focus on emergency communications, highlighting the critical role of telecommunication technologies, networks, and applications in crisis management and disaster mitigation.

Telecom engineers and executives, university professors and students from various Lebanese universities also had the opportunity to discuss emerging topics — cloud computing, mobile broadband evolution, and the recent deployment of 3G in Lebanon, among others — with experts from Lebanon and Europe.
The event was co-organized by LAU, the Telecom Regulatory Authority in Lebanon, and LAU's IEEE student branch and ACM student chapter.
Dr. Philippe Frossard, dean of the School of Arts and Sciences, says that 21st-century scholars have the duty and responsibility to engage with the communities they serve, and act as public advocates for change.
"The goal of this workshop is to provide participants with up-to-date knowledge and opportunities for networking," he says. "In that respect it should also be a platform for initiating applied research activities that address relevant problems at national and global levels."
The event approached its theme from technical, social, policy and regulatory angles.
"Technology design and development can no longer be divorced from social concerns and business interest," said Dr. Irina Shklovski from IT University of Copenhagen, Denmark. "Instilling this kind of reflexive engagement in students through workshops like this is a great approach."
Several speakers emphasized that the broad use of mobile communication technologies and their increasing integration in our daily life make them all the more crucial during disasters and crisis management.
Dr. Laurent Franck, head of Telecom Bretagne's Toulouse branch, said that a failure of telecommunications could trigger a "chain reaction" leading to humanitarian, economic and political chaos.
According to Franck, successfully meeting this challenge will depend on the willingness of political and economic actors to develop emergency telecommunications.
Students present at the event engaged in animated, sometimes lengthy discussions with the professional participants.
"I was happy to see students from different universities across Lebanon eager to learn about emerging topics and to interact with the invited speakers and guest professionals the way they did," said Dr. Sanaa Sharafeddine.
Mounir Younes, a computer science student and president of ACM's student chapter at LAU, said the workshop "revealed the importance of technology in our lives from a risk detection and recovery perspective." Younes added that research in this area can potentially increase efficiency and decrease casualties in an emergency.
The workshop was sponsored by MTC Touch, Cisco, Nokia Siemens Networks and BMB.