LAU hosts workshop on violence against women
Guest speaker addresses the psychological implications of domestic violence for its victims.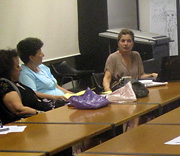 Evelyne Accad (left) and Jacqueline Hajjar (second from left), co-founders of Beit el-Hanane, actively participated in the workshop.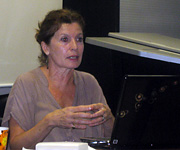 Dr. Sylvia Saade underlined the depth of the damage inflicted by domestic violence on the abused women.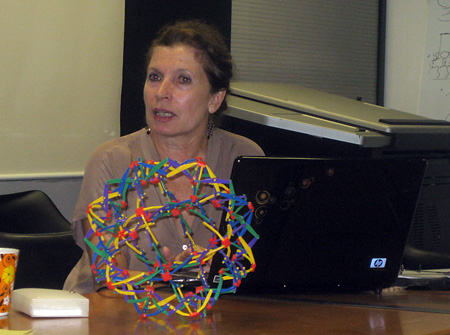 Saade highlights the importance of helping abused patients "open up" using props.
Click on any photo above to view all three images.
 Dr. Sylvia Saade, director of Outreach and Stabilization Intervention Services (OASIS) at the University of North Carolina at Chapel Hill, spoke about the emotional and psychological perils of domestic violence against women during a workshop on September 30 at LAU Beirut. It was organized by the Department of Humanities in collaboration with Beit el-Hanane, a non-profit organization that helps rehabilitate abused women in Lebanon.
Though the immediate injury is physical, the psychological impact of domestic violence can be far more worrying, with depression, anxiety, post-traumatic stress disorder and substance abuse being the major concomitant consequences, Saade says.
The underlying peril of domestic violence stems from the fact that it continues to affect women's wellbeing long after the actual violence has stopped, she explained.
In 1996, Lebanon ratified the Committee on the Elimination of Discrimination Against Women (CEDAW), and the Lebanese Constitution states that women are equal before the law, and enjoy the same civil and political rights as men.
"And yet, there is no national law in Lebanon establishing the minimum age of marriage or the age of consent," says Saade, adding that in a patriarchal society such as Lebanon, there is no concept of marital rape.
Although many women may seek professional help, 75% of abused women don't reveal the abuse; meanwhile 57% of those who do, choose to confide in a family member or a friend instead.
"You cannot choose the right solution for these women, nor tell them what to do. They know what the safest option for them is," says Saade, adding that listening to the traumatized patients and validating them is critical.
Sisters Jacqueline Hajjar and Evelyne Accad founded Beit el-Hanane last year. Hajjar, a former LAU professor, was involved in helping abused women long before the inception of Beit el-Hanane.
"I've had students who were abused or raped. I've been helping these women for many years," says Hajjar, "but it wasn't until last year that my sister and I decided to make it more official, so we started Beit el-Hanane."
"The timing of the intervention with traumatized abused women is crucial," notes Saade, adding that the rapport between the mental health professional and the abused patient is key to the success of the treatment. 
The mental health professional should also provide the abused women with psychological education that highlights the relationship between stress and health.
Further clinical interventions include developing a safety plan and displaying posters, pictures and videos on abused women's legal rights.
"A mental care professional can't wear two hats," says Saade, arguing that the healthcare specialist has to choose between being a feminist who would report the abuse to higher authorities, and being a therapist solely devoted to helping the abused patient.